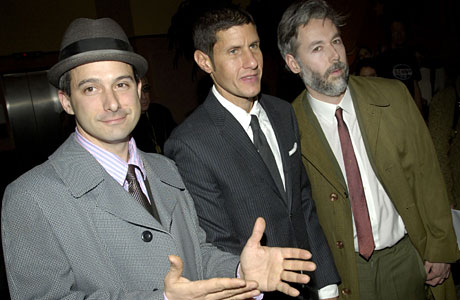 You know how this feature works. I pick an example of someone either trying a British accent or developing a snooty faux-English attitude, throw a few snarky lines around, giggle a bit and we all get on with our lives.
Today, it's a little different. On Friday the sad news broke about Adam Yauch of the Beastie Boys, and it seems a good opportunity to express just how much that band meant to a generation of British music fans, by digging about for any Anglophile tendencies on their part, and making a bigger deal out of them than they would otherwise merit. Because the only other thing to say is that it's a bitter irony that a band so blessed with the gift of joy should have to face such tragedy, and to send a message of love to everyone involved.
Anyway, back to the point. First of all, we're the country that overreacted the best to the Beastie Boys in their juvenile, provocative years. Never mind setting up the PMRC or asking for records to be sticked for explicit content, we set the hounds of our tabloid press onto the band, scaring the shine off Mike D's VW pendant in the process, and then hyped up our nation's youth to such a degree that one Beastie show in Liverpool turned into a riot, and lead directly to Adam 'Ad-Rock' Horovitz being arrested for assault (after he biffed a thrown beer can back into the audience).
As a result, the band could have been forgiven for never wanting anything to do with Britain again. But one listen to Ad-Rock's chipper cockney introduction to "Triple Trouble" (in an accent that makes Dick Van Dyke sound like Colin Firth), proves that grudges never last in Beastieworld:
And that wasn't their only act of cross-cultural hat-tipping. Here's the video to "Gratitude," based entirely on the concert movie Pink Floyd: Live at Pompeii:
And, as a gentle finale, here are Coldplay, paying back the transatlantic compliment, with their cover of "Fight For Your Right To Party," recorded on Friday at the Hollywood Bowl, as the news of Adam's death was still spreading:
Rather beautiful, isn't it?
Read More
Filed Under: