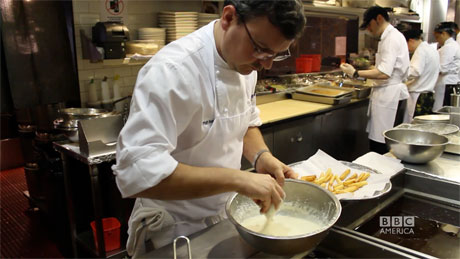 With BBC America's new cooking competition No Kitchen Required whetting our appetites for exotic dishes whilst getting our adrenaline pumping, we here at Anglophenia have been exploring what some people still consider odd eats: that is, British cuisine. And we've been talking to various chefs around New York City on this very topic. What is British food, and why is it so maligned?
In the first installment of our "Anglo Eats Out" video series, we spoke to a culinary wizard with a unique perspective on the matter: Matt Hoyle, the British executive chef of the Japanese restaurant Nobu 57 in Manhattan. The Lancashire-born Hoyle has traded his bubble and squeak for sushi and tempura batter, but he hasn't lost the love for the home cooking of his youth. (And watch below as he gives a Nihon twist to a UK fast-food staple.)
And Hoyle was kind enough to offer the recipe for Nobu Fish and Chips:
Nobu Fish and Chips
Sauce
100 mL or 6 tbsp. Rice Vinegar
50 mL or 3 tbsp. Soy Sauce
16 mL or 1 tbsp. Lemon Juice
Combine all to make ponzu sauce.
Peel and grate 1 small knob of ginger.
Cut five 2mm-thick slices of jalapeno pepper.
In a small bowl combine ponzu, ginger and jalapeno slices.
Chips
500 g or 17 oz. of good frying potatoes
Peel then cut potatoes into batons roughly 6cm/2cm/2cm, rinse well in cold water, drain and pat dry with kitchen paper.
Cook potatoes in clean frying oil heated to 120c /250f, until soft – you should be able to stick a cake tester through the potato with no resistance.
Drain, cool, cover with plastic wrap and then freeze the chips.
Tempura Batter
200 mL or around 7 fl. oz. Ice cold Water
1 Egg Yolk
100 g or 1/2 cup of Plain Flour
In a mixing bowl, mix the water and yolk, using a pair of chopsticks. Then add the flour, a little at a time, mixing with the chopsticks until it is all incorporated. Don't overwork it, or the batter will be heavy — it should be loose with a few little lumps of unmixed flour.
Fish
1 8 oz. fillet Chilean sea bass
Chilean sea bass gives a lovely texture when fried. You can however use any whitefish, including striped bass, fluke or black cod. You may need to add an extra minute or so to the cooking time for firmer fish.
Cut the fish into finger size pieces, roughly 8cm/2cm/2cm. Pat dry on kitchen paper.
Salts
At Nobu 57 we mix Maldon sea salt with other flavors to give an interesting accent when finishing dishes. Here are some of our favorites:
Curry Salt – mix Japanese curry powder with Maldon to taste.
Yuzu Salt- dissolve Maldon in yuzu juice then very slowly heat until the salt has re-crystallized and dried out.
Miso Salt- Dried miso mixed with salt to add a savory/umami taste.
You can use any salt you prefer.
Cooking, Plating and Eating
In a large pan of clean oil heated to 180 Celsius/360 Fahrenheit, cook the chips from frozen until crisp, golden and hot all the way through. Drain on kitchen paper.
Dip the fish into cold tempura batter, allow excess to run off and gently place into oil. Cook for 2 minutes until lightly colored and crisp. Drain on cooking paper. Sprinkle with the salt of your choice.
On a large plate make a stack of chips and another of fish. Put the bowl of ginger, jalapeno ponzu next to it.
Dip away. Eat and enjoy.
No Kitchen Required, BBC America's new cooking competition series, airs Tuesdays at 10/9c. For the inside dish on the show, Check out blogs from the chefs, host, and producers

Read More
Filed Under: