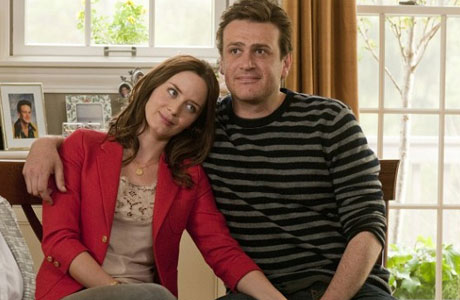 "It's the most raucous, bawdy movie I've ever been a part of," says British actress Emily Blunt, commenting on her new romantic comedy The Five-Year Engagement out this Friday (April 27).
Blunt stars opposite Jason Segal in a movie which chronicles the ups and downs of a couple's five year trip to the altar.
Despite the film's ongoing vulgarities, The Five-Year Engagement does appear to be an earnest effort by actor Jason Segal and director Nicholas Stoller — who collaborated on the screenplay — to create an entertainment that's a little bit more real than standard-issue Hollywood romantic comedies.
Emily Blunt agrees: "What I love about the movie is that it's not derivative of other romantic comedies. It hasn't got that perfected glow that a lot of these romantic comedies have, and it's really trying to carve out new space, and the relationship is messy and awkward and fresh, so I think hopefully people will like that, that it's realistic as well as being this poor couple who are put through ridiculous heightened situations."
The film doesn't totally succeed in rising above the formulaic with its feel good beginning and ending. But what goes on in between is more real – and at times quite funny.
Will you see Emily Blunt's latest comedy? Is it a good choice for her? Tell us below:
Read More
Filed Under: