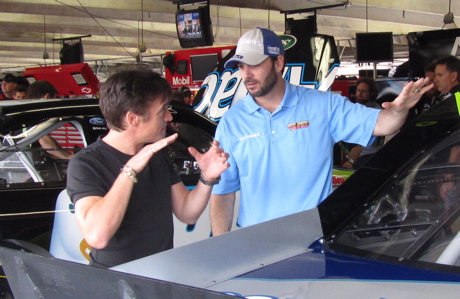 It seems as though Richard Hammond has become Top Gear's go-to guy for anything about cars – or about life, for that matter – in these former British colonies.
"I think all things American on the show at the moment," he said this week in an interview with Autoracingdaily.com.
In addition to commandeering an Abrams tank and operating heavy duty logging equipment in the Pacific Northwest for his new show Crash Course, Hammond took on the uniquely American institution of NASCAR for next week's episode of Top Gear.
And he loved every minute of it.
"At the very essence of the sport, in the very center of it, there is an awareness on the part of the drivers and the teams, all of them, all they want to do is drive," said Hammond. "That's all they're there to do."
But in order to do the driving, they've got to raise millions of dollars each year – and the only way to do that is by putting on a good show.
"That absolutely informed everything they did," says Hammond, who appeared in a Q&A session this week with NASCAR's Jimmie Johnson, who for the second year in a row was ranked No. 1 on Forbes' list of America's Most Influential Athletes and who took Richard under his wing for Monday night's episode.
"I'm a fan of the show, and I was very happy to see the film crew, and to know how in depth Top Gear is with their program," said Johnson. "I was excited to be a part of it."
Hammond was excited too, and he says it was the "spirit" of NASCAR that made him feel right at home.
"There is nowhere elsewhere you'll find motor sport at this level of professionalism and speed and ability where people are so welcoming," Hammond said. "The biggest surprise was the drivers of the likes of Jimmie, just who wandered around the crowds and talked to people. That is unheard of in other motor sports and really revealing of an attitude that says, 'come along and watch.'"
Of course, Hammond did more than just watch. And when he himself took to the track, he told NASCAR that he found it to be an "awesome" experience.
"The thing is a monster," he said of driving a NASCAR car. "It's like climbing into the belly of a dragon and driving that around."
• Driving a dragon is how one could describe all of Hammond's vehicular experiences on Crash Course. In next week's episode, he travels to the Denver Regional Landfill, where he learns about waste disposal machines, specifically the triumvirate of the bulldozer, the compactor and the "scraper".
The scraper can pick up 40 tons, which is, as the above graphic points out, the equivalent of an adult sperm whale. It might sound like a dirty business – though probably not as slippery as picking up sperm whales – but, happily for Richard, there's a lot of destruction involved in taking out the trash.
• Richard continues to receive high marks from the people he works with on Crash Course. Last week, when he operated forestry equipment under the guidance of Cross & Crown Logging in Carlton, Oregon, his mentors said he was an excellent worker.
"He got along with everybody and he worked really hard," the company's owner, Bob Luoto, told BBC America. "We put in 12, 13, 14-hour days and he was there every morning ready to go."
But lest you think it's just us wringing out a good quote, Luoto and his co-owner, his son Kirk, also spoke highly of Richard to the local newspaper.
"Kirk and I liked Richard a lot," Bob told the Yamhill Valley News-Register. "What you see is who he is. And he allowed us to be ourselves."
Luoto also said that Hammond's driving experience was good preparation for handling the massive logging equipment, which requires keen hand-eye coordination and steady nerves.
• While Richard's been here in the States, his colleagues went to China for next Monday's Top Gear. Jeremy Clarkson and James May traveled to Beijing to look at the world's largest producer of cars – and the Chinese have also, apparently, produced a Chinese Stig as well.
• Next Monday's Star in a Reasonably Priced Car is a familiar face to us on this side of the pond. It's Matt LeBlanc, who played Joey on Friends. So, the question for Matt is: "How ya' doin'?" We have no idea how he did on the track, but he did say, "It's the most fun TV show you can come on."
• The world's most popular auto-racing game, the Top Gear-themed Forza Motorsport 4, which boasts Jeremy Clarkson's voice on some of its features, is getting an update. On May 1, Microsoft is releasing its May TopGear Car Pack, which will offer ten – count 'em, ten – new cars. One of the most eagerly anticipated is the 2012 Hennessey Venom GT, a 1000-horsepower car that has the highest power-to-weight ratio of any car on the market – though since only five will be built this year, it's hardly even on the market. But you'll be able to get a much cheaper virtual version (only 560 Microsoft Points or $7) in an online download. Also in the pack: a 1977 AMC Pacer X, a 1966 Lotus Cortina, a 1992 Mitsubishi Galant VR-4 and a 2011 Ford Transit SuperSportVan. For a complete list, and more info, take a look here.
Read More
Filed Under: