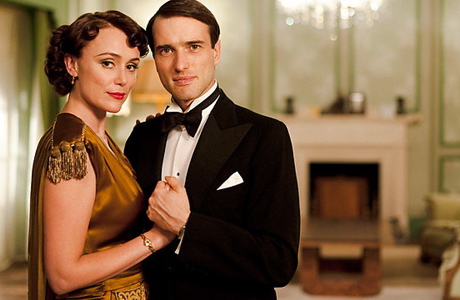 Fans of the revived Upstairs Downstairs will no longer be able to view the goings-on either upstairs or downstairs at 165 Eaton Place. The BBC has announced that the period drama, which aired the final episode of its second season in the UK last month, has been cancelled.
Like the original Upstairs, Downstairs (1970-74), the show followed the lives of the occupants of a London townhouse. The new series was set on the eve of World War II and focused on an aristocratic couple (Ed Stoppard and Keeley Hawes) who lived upstairs and their servants (Jean Marsh, Anne Reid and others) working below.
In the U.S., Season One of the revived Upstairs Downstairs ran on PBS' Masterpiece last year; Season Two is expected to air in 2013. The original Upstairs, Downstairs also appeared on PBS nearly four decades ago.
PBS' Masterpiece is also home to Downton Abbey, the Emmy-winning period drama that, like Upstairs Downstairs, focuses on both the titled family living upstairs and the staff below. (In the UK, Downton airs on ITV.)
The BBC attempted to reboot Upstairs, Downstairs following the runaway success of Downton Abbey. The British press closely compared ratings for the two series in England. In its second season in the UK, ratings for Upstairs Downstairs declined despite the addition of actress Alex Kingston (ER) to the cast and attempts to spice up plot with a lesbian love story and a shooting.
Some fans are refusing to take the cancellation lying down. TheWrap.com reported that one viewer has begun an online "Save Upstairs Downstairs!" petition on Twitter.
"If you want to see a third series of this fantastic drama, please sign the petition. If we all pull together, we might just be able to save it guys!" the Twitition reads. As of late Tuesday, it had more than 275 signatures.
——————————————–
Were you a fan of the revived Upstairs Downstairs?
——————————————–
Read More
Filed Under: