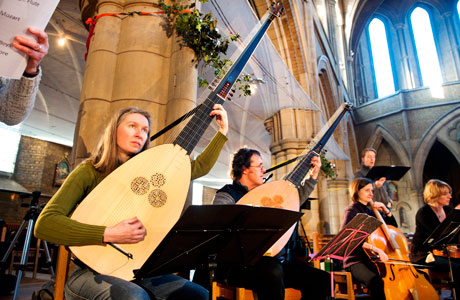 A slight deviation from our usual format this week. We won't be examining American cover versions of British songs, not when we have a proud and patriotic duty to perform.
As you may know, 2012 is not only the year London plays host to the Olympic Games, it's also the year in which our Queen Elizabeth celebrates her Diamond Jubilee. So to capitalise on the rivulets of national pride which are currently running down British streets like spilled beer on a Friday night, a new album has been put together which seeks to reimagine and recontextualise some of the most sublime writing in the English language.
No, I'm not talking about Naomi Campbell's novel The Swan, this is William Shakespeare's sonnets, his swooning gift to the language of lovers.
Some bright spark has had the idea of recasting the greatest hits of the sonnets into musical form, and using them as lyrics for  modern folky pop-type songs. The extra twist is they've been recorded using instruments which have fallen entirely out of use since the era in which the sonnets were written, such as the theorbo – yep, it's a massive lute – you can see in the picture above.
The result is Shakespeare: The Sonnets, an album which is set to be released on April 23rd (Shakey's birthday, and also St. George's Day), and therefore the most patriotic album in all of British history.
The working method was fairly straightforward, by all accounts. All the words are sung as written, although some have been shifted around a bit so that they fit into the modern folky pop song format. If this makes you feel at all uneasy, as if your high school teacher has just put a baseball cap on backwards and crossed his arms to try and "freestyle" a "verse" about Measure For Measure, you're in good company.
There's a Soundcloud playlist of five of the reimagined sonnet songs, to give you a flavor of the project, and, well, the first thing I'd like to throw out there is that the elements that either get in the way or worse, disappear entirely, are the words and the Elizabethan instruments, rendering huge portions of the project a little, what's the word? Oh yes, pointless!
However, if your idea of heaven is a sonic approximation of the Corrs or Crosby, Stills and Nash singing plushly arranged songs with lyrics that don't quite fit the rhythm of the melody, well you're in luck.
Ironically, the song which makes best use of this concept is the one most rooted in the past, the vocal ensemble I Fagiolini's a capella arrangement of Sonnet 115, which focuses intently on the phrase "love is a babe" (meaning a baby, not a hot mama), is actually rather nice:
As with everything else, however, it's still got 'geography teacher comparing oxbow lakes to The Twilight Saga' written all over it.
Read More
Filed Under: