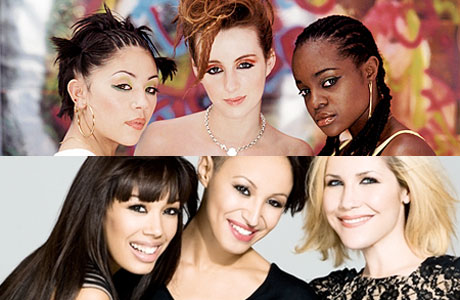 The harsh realities of life as a successful member of a pop band are not to be taken lightly, and can lead to some bizarre situations as each new problem is met and overcome. And so, with One Direction storming the charts in America right now, here's a cautionary tale from the last decade in British pop. Be careful lads, this could happen to you too.
Sugababes 1.0 (1998 – 2001)
Once upon a time there were three girls who formed a band. Being very young, and addicted to sweets, their producer referred to them as sugar-babes, which they then seized upon as the perfect name for their band. There was Siobhan, the flame-haired arty one, Keisha, the doe-eyed businesswoman, and Mutya, the soulful wild child. Their unique-selling point was their total frostiness, which seems even more alien now, in a pop landscape dominated by all-singing, all-dancing theatrical performers. Look at this, what poise! What presence!
Sugababes 2.0 (2001 – 2005)
And then, amid stories of bullying and fighting and general lack of ability to handle their sudden fame, Siobhan walked out, to embark on a hugely well-respected (but not world-beating) solo career. The record company failed to convince the remaining members that they had their best interests at heart, and so, having recruited Heidi, the blonde, Liverpudlian one, they came across a mash-up of Gary Numan's "Are 'Friends' Electric" with Adina Howard's "Freak Like Me" and set about carving up the pop charts. It was a last, desperate roll of the dice, and it worked:
This was the band's golden period, and lasted for four years, during which time they released gloriously chilly pop hits like this:
Sugababes 3.0 (2005 – 2009)
Sadly, the life of a touring pop star was for Mutya, who had given birth to her daughter and was reported to have fallen out with the other two. Mind you, there were always rumours of arguments around the Sugababes, to the extent that they even called their sixth album "Catfights and Spotlights." So she bowed out, to be replaced by Amelle, the lithe, eager-looking one. This then meant that the frosty reputation of the band rested entirely on Keisha's shoulders, as the sole original member left. The other two made a game stab at looking too cool for this performance lark, but they were never born to it the way Mutya and Siobhan had been. Still, the hits kept coming…
Sugababes 4.0 (2009 – ?)
And then the unthinkable happened. Keisha, the sole remaining original Sugababe, the planet in whose orbit Heidi and Amelle rotated, was kicked out of the group, and replaced with Jade, the leggy, superfluous-to-requirements one. This would have been shocking enough, had the band's music continued to provoke delight and wonderment among pop fans, but something had snapped in their machine, and they began to release odd-sounding, slightly needy pop songs. Which would be fine for the Saturdays, but never for the haughty, stuff-you Sugababes.

As far as the press were concerned the band were over, and despite their songs getting a fair showing in the British charts, they went on extended hiatus in order to sort things out (and appear on various reality TV shows). They have yet to return.
Sugababes 5.0
This is the oddest part of the story. After Keisha was ousted from the group, she and Mutya began talking again, bringing in Siobhan too. As things stand currently, no one is quite sure how the three of the came to the decision, but they appear to have decided to form a band, and work on a new album. However they cannot be called Sugababes, because the trademark rests with Heidi, Amelle and Jade. Which may seem unfair, until you remember that Heidi has been in the band longer than Siobhan, and Mutya, and will soon overtake Keisha as the longest-serving member.
Nevertheless, the prospect of new material from the original line-up is a giddy thrill for all British pop fans, whatever they decide to call themselves (Twitter has decided they are the Origababes, but let's hope the girls have a better idea). They have all been very cagey about the details, refusing to publicly declare anything, presumably in case it all falls apart again, but getting back together would be an enormous gesture of cool defiance to the record company that thought the members of the band were interchangeable. And cool defiance runs through the history of this band like grenadine in a tequila sunrise. And every bit as chilly.
Read More
Filed Under: