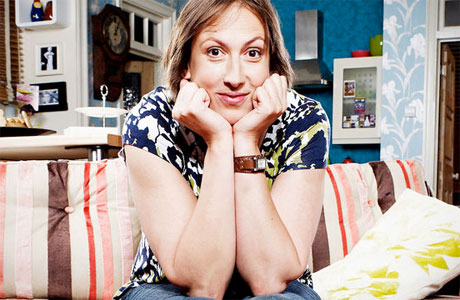 This Saturday sees the BBC America premiere of the second season of Katy Brand's Big Ass Show (12:40am / 11:40c) , and, inspired by her mighty works, here's a list of five other female comedians who are currently doing the business in Blighty. Just so you'll know who they are and how they take their tea, when the invasion begins…
Note: some of these clips are NSFW, speechwise, so you might want to have headphones handy.
Laura Solon
An obvious heir to Queen Katy's sketch comedy crown, Laura won the 2005 Perrier comedy award at the Edinburgh Festival, has had three acclaimed comedy series on BBC Radio 4 and has made countless contributions to TV sketch shows, like Ruddy Hell…It's Harry and Paul. Here's just a selection of her work.
Josie Long
Ah, the indie sweetheart. Josie's gently surreal blend of observational comedy and everyday politics has endeared her to legions of fans over the last few years. No one else can rock a feminist agenda, challenge established orthodoxies and be so charming about it to leave a trail of swooning, lovesick skinny white hipsters in cardigans behind.
Miranda Hart
Currently enjoying national treasure (trainee) status, Miranda's sitcom (also called Miranda) is one of those gentle comedy backrubs that always get a bit of a drubbing from sniffy critics, but thrive because millions of people tune in. And this is because sniffy critics love something with a bit of edge, whereas audiences just want to be entertained, and given that Miranda (the person) is such an engaging and daffy peformer, entertained is what they are.
Sarah Millican
Meanwhile, Newcastle's favorite daughter Sarah enjoys a far easier ride, despite being every bit as warm and unhaughty, because she tends to veer into topics that other stand-ups might consider a little gross. Not Sarah Silverman gross, just common-or-garden gross. But look at that mischievous grin! Could someone that cheeky ever say anything truly offensive? What do you mean "yes!"?
Isy Suttie
It's always a little scary when a comedian takes to the stage carring a guitar, but Isy does the singing stand-up thing rather well (she's the folk Victoria Wood, basically), especially when her songs take a diversion out of the singer-songwriter zone and into an area which is almost operatic. No one else can yodel 'pedophile' in quite the same way.
No, I've no idea if anyone else has tried either.
Read More
Filed Under: