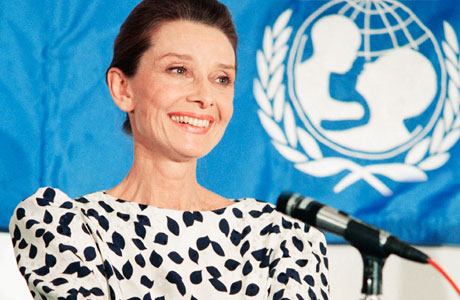 As it's Good Friday, and there's never a bad time to lift our heads out of the showbiz world and look around the wider world a bit, here are five British stars of Hollywood who have tried to put their fame and influence to good use.
Audrey Hepburn
The original humanitarian Hollywood Brit. In the mid-'60s, Audrey was just about as famous as it's possible to get, winning Grammy, Tony, Emmy AND Academy awards for her sterling work in such films as Breakfast At Tiffany's and My Fair Lady, but began to scale back her career in order to throw her lot in with UNICEF as a goodwill ambassador. This took her all over the world, most notably to those nations in Africa, Asia and South America that had been ravaged by conflict, leaving starvation and deprivation in their wake. Shortly before her death in 1993, she received one last award, the Presidential Medal of Freedom.
Elizabeth Taylor
Another British actress whose career and influence was measured on a scale that had to be specially calibrated with her in mind, and who devoted the latter years of her career to supporting various causes. She offered support to the Israeli War Victims Fund, the Variety Clubs International and campaigned to raise funds to find a cure for AIDS. And, as in Audrey's case too, she received special commendation for these efforts. When she was made a dame in 2000, the commendation read that her award was for her contributions to the entertainment industry and her work for charity.
Colin Firth
It will surely come as no surprise at all to learn that Colin is as good a person off the silver screen as he is an actor on it. He's been a strong supporter of Oxfam International, taking on an Ambassadorial role for them, as well as offering his support to Survival International – an organization that seeks to preserve the rights of tribal peoples all over the world. And he's the co-founder of Café Progreso, a fair trade coffee chain.  As a result of these and other charitable activities, the EU voted him European Campaigner of the Year in 2006, and two years later the Hollywood Reported dubbed him their Philanthropist of the Year. And this was BEFORE The King's Speech raised his profile through the roof.
Kate Winslet
Kate's particular field of humanitarian interest lies in raising awareness and funds to help look after people with autism. Her charity, The Golden Hat Foundation, campaigns on autism issues on a worldwide basis. She began this work in 2009 after being asked to provide the narration on the documentary A Mother's Courage: Talking Back to Autism, directed by Fridrik Thor Fridriksson, in which a boy called Kelly learns to communicate with his mother through a letter-board. He then starts writing poetry, and one of the earliest poems is about a golden hat that allows any autistic person to be given the gift of perfect communication. This gave Kate the spur to start campaigning, and a name for her organization too. She was awarded the Yo Dona International Humanitarian Award in 2011, only two years after the foundation was first set up.
Ralph Fiennes
It seems a little childish to express surprise and/or delight that the man who is most famous for playing a succession of evil swines, including the darkest wizard who ever drew breath, should be such a tireless campaigner for the health of others in his spare time, but still. VOLDEMORT! Is a GOODWILL AMBASSADOR! For UNICEF!
Read this, Potterfans, it will blow your mind, and then twang at your heart-strings.
Note: Let's all be generous, there are a LOT of people performing all sorts of humanitarian acts all over the world, all the time. Just because there wasn't room on this list for Vanessa Redgrave or Liam Neeson or anyone else, doesn't mean we are intending to snub their good work. Keep it up, everyone!
Read More
Filed Under: