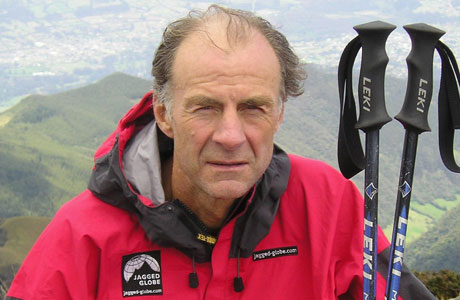 This isn't a test of Anglophile credentials: you don't have to know who all of these people are to be in our secret Brit club. It's just a list of ten people who are an essential part of the cultural fabric in the UK, people who are as loved by the Brits as the Beatles or Doctor Who but who don't necessarily bring that love with them onto the world stage.
And in the spirit of a true countdown, today is all about numbers 10 down to 2, and tomorrow we'll reveal the British national treasure that deserves to be carried around the world at shoulder height. You may already know this person and their work, but unless there's a national holiday devoted to them that we're not aware of, they still don't get enough recognition.
But that's tomorrow's windmill to tilt at. Today is all about these nine fine fellows, starting with a politician:
10: Tony Benn
Whatever your political persuasion may be, you have to admit it's not easy to find people of principle who have experienced power, and come out the other side with their ethical purpose undamaged. Tony Benn went one further, by renouncing the privileged position he was born into and continuing to work hard for the rights of underprivileged citizens, well into his 80s. He was born into a peerage, the second Viscount Stansgate, and successfully campaigned to renounce this, as it didn't chime with his egalitarian views. He was a prominent Labour Party politician, who served as Postmaster General, Minister of Technology, Secretary of State for Industry and Secretary of State for Energy, But it's his role as a warm and passionate campaigner on all manner of liberal causes – a Pete Seeger without the banjo – which has garnered the most affection. He's probably won more polls to find Britain's most popular politician than he did elections.
This is the best example of the man in action. Here he is being interviewed by Ali G, the pre-Borat comedy character devised by Sacha Baron Cohen. Ali's job is to wrong-foot his interviewees, to encourage them to saying something silly by being even sillier himself, using youth culture as a Trojan horse. Tony simply will not put up with any of it.
9: David Mitchell
Americans believe British men to be witty, erudite and perpetually seething. By this logic the comedian David Mitchell (always at his best when riffing in an outrage on a panel show) is the most British man who ever lived. Stephen Fry (another national treasure) refers to David's ranting as "angry logic," and with good reason.
8: Delia Smith
The original British TV chef. Never had to swear, never had to strop around telling restaurants what they're doing wrong, and always managed to sell the idea that cooking food is something anyone (even non-alpha males) can do.
7: Trevor McDonald
This tribute says it all. You want your newsreaders to be a reassuring presence, even when they're asking awkward questions of the government, and Trevor's stern but avuncular presence was always a national blessing.
6: Sir Steve Redgrave
In the history of the Olympics, only five athletes have won a gold medal in five consecutive games, and with good reason. Maintaining a 20 year career at the peak of your chosen sporting profession is a phenomenal task, to do so while dealing with diabetes and ulcerative colitis is practically superhuman. After this win, Steve told journalists that anyone who saw him near a boat had permission to shoot him. There again, would you bet against him being bulletproof? I wouldn't.
5: Charlie Brooker
If David Mitchell's angry logic is common sense on the edge of a nervous breakdown, Charlie Brooker's angry logic is scalpel-cut stalker vengeance on an carelessly sloppy world. His precise dissections of modern television – first on the web, then in print, and now actually on TV, ironically enough – are often brutal, but only to puncture the cloud of self-importance that television farts into the room every time the set is turned on. To this end, he'll often appear talking to camera in a mock-up of his own living room (that may actually be his living room, depending on budget constraints), lit by the glow of a TV. The fact that a generation of YouTube enthusiasts have been doing this exact thing for ages should not detract from the gesture of audience solidarity he's attempting to make. Also, this clip has been used by local TV news crews for training purposes. That's satire squared.
4: Sir Ranulph Fiennes
What is with the Fiennes family and achievement? Ranulph's third cousins Ralph and Joseph may be Voldemort and Shakespeare respectively, but have they climbed Everest (aged 65)? Have they run seven marathons in seven days (only four months after a quadruple bypass operation, I might add)? Have they trekked to the North Pole on foot? How about the South Pole? Have they lost part of their hands to frostbite? Are either of them the only figure of authority to ever get full respect and sober attention from James May, Richard Hammond AND Jeremy Clarkson? No.
3: Felicity Kendal
I picked this clip simply because it's nice to have something familiar among this scree of unhousehold names. However, Felicity Kendal (Lady Eddison to the Doctor) is an actress gifted with rare charisma on screen and the ability to play dramatic and comedic roles with equal glee. She's best loved in the UK for the '70s sitcom The Good Life, in which she plays the wife to a man with a maniacal dream of living off the land, in a suburban street, but her on-stage association with Sir Tom Stoppard is of equal importance. She's one of the grande dames of British theatre, and will surely be appearing in a costume drama near you (as soon as Dame Maggie Smith retires).
2: Sir Bruce Forsyth
As time goes by, there are fewer and fewer TV entertainers whose careers go back to the very beginnings of the medium. Bruce is one such entertainer, having begun his career as a singer, dancer and comedian some 70 years ago. And what's more, he's never been more popular. As the host of Strictly Come Dancing (which is, as you'll already know, our Dancing With The Stars, Bruce is often the man who has to reassure celebrities once they've had a drubbing from the judges, which he always does with a friendly "never mind, you were my favorite." And this is after ruling '70s TV with The Generation Game, making friends with Sammy Davis Junior, and the peak, appearing on The Muppet Show.
Which just leaves No.1. Who could it be? Who's the biggest British national treasure of all? We'll tell you tomorrow…
Read More
Filed Under: