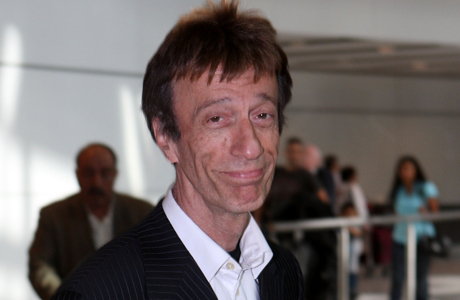 Well it wasn't looking good for a while there. A week ago, the Bee Gees singer Robin Gibb had slipped into a coma while undergoing treatment for cancer of the bowel and liver. He had developed pneumonia, and was dangerously close to death, to the extent that the international musical community had already started paying fond tribute to his talent and career.
However, he appears to have pulled himself back from the brink, for now at least, thanks to a timely intervention by his brother Barry, and the healing power of music.
As is often the case in situations such as these, Barry had brought a guitar to Robin's bedside, hoping to reach him by singing a few songs, and it appears to have worked.
Robin's wife Dwina told the Daily Mirror: "The ECG scanner showed that Robin was responding to the music being played to him.  We're very pleased. We think he might even talk once the tubes come out."
Of course, it's still too soon to say if Robin is on his way back to full health, but it's a remarkable turn of events for someone who was feared to be so close to death.
Dr Andrew Thillainayagam, of Imperial College Healthcare, told the press: "Only three days ago, I warned Robin's wife, Dwina, son, Robin John, and brother, Barry, that I feared the worst."
"We felt it was very likely that Robin would succumb to what seemed to be insurmountable obstacles to any form of meaningful recovery. As a team, we were all concerned that we might be approaching the realms of futility."
"It is testament to Robin's extraordinary courage, iron will and deep reserves of physical strength that he has overcome quite incredible odds to get where he is now."
Hopefully he can continue to do so.
Read More
Filed Under: