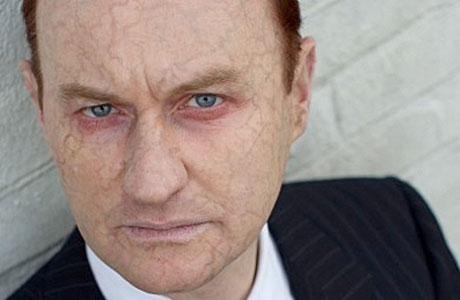 The actor and writer Mark Gatiss has taken many cruel and strange roles in his time – a veterinarian who accidentally kills all of his patients in The League of Gentlemen, a professor who creates an age-reversing machine in Doctor Who, the coldly calculating Mycroft Holmes in Sherlock – but there's one job he has his eye on which would take him to a whole new level of dark malevolence.
Asked by Radio Times magazine to name the programme he would most like to work on, he immediately replied "America's Next Top Model. I am obsessed with it. The next cycle is called The British Invasion. I don't know what they are doing but I want to be a guest judge on it."
Can you imagine strutting your stuff in front of that sour face? The only catwalk you'd want to be on is one pointing a very long way away, with a moving walkway running down the middle of it.
Mark also spoke about the joy of taking a role as the leader of the 'old ones' in BBC America's supernatural thriller Being Human, which is, of course, where this picture comes from.
He said: "I've just played the chief vampire in Being Human and I said to the director: 'I have to say I think I have waited all my life to play this part.' Because when I was a little boy I used to re-create Christopher Lee's death scenes from Dracula. I felt like I had come home. I don't think I have ever had so much fun in my life."
And you can see the despotic results of all of this fun this Saturday at 9/8c on BBC America.
Read More
Filed Under: