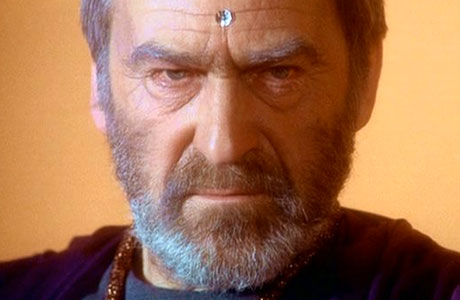 Whovians will tell you Patrick Troughton was the first Doctor to fully develop the character of the Doctor that we're all familiar with today, making him flighty and mischievous, after William Hartnell's stern, patrician Time Lord. But a quick examination of his astonishing resume serves to suggest that this is probably because character is something he excelled at, having played a part in practically every British drama in television, and carved out a respectable film career to boot.
Let's start with a doozy. Did you know Patrick Troughton was the first man to play Robin Hood on the television? Well he was, in a six-part BBC adaptation of the old folk tales in 1953, although you'd struggle to recognise him under that blond beard:
He also appeared in The Adventures of Robin Hood, a more lavish production of the same stories, only two years later, only in a different role. The lead had gone to the larger, musclier Richard Greene. Not that he missed out on other starring roles, he also was the voice of Winston in a BBC radio adaptation of George Orwell's 1984, but it was as a character actor that he really made his name, bringing a touch of flinty charm to every role.
Here he is as Phineas the blind man in Jason and the Argonauts (1963)
http://www.youtube.com/watch?v=mLgDcq_VL-4
And the about-to-be-skewered Father Brennan in The Omen (1976)
And the prostrate Sir James Tyrrel, opposite Laurence Olivier's Richard III in 1955:
And here's a really early appearance, playing Bill Brough in 1951's The Franchise Affair (Patrick appears around the 1:30 mark)
http://www.youtube.com/watch?v=R9iALw2GdM8
And the elder Archon in the Space: 1999 episode The Dorcons, showing that sci-fi had lost none of its appeal once he had regenerated into other work (1:45-ish):
http://www.youtube.com/watch?v=_aAZp4vGm7M
Oh, and a rare delight here, two Doctors playing opposite one another, in a 1980 episode of All Creatures Great and Small, the TV series that gave Peter Davison his big break:
And here he is in the second role in which he enchanted children all over the UK, Cole Hawlings in a 1984 BBC adaptation of John Masefield's book The Box of Delights:
http://www.youtube.com/watch?v=BjTVqy0RcOY
Yes, it really is a bloody eerie title sequence.
And that's not counting all of the times he appeared in (DEEP BREATH) The Count of Monte Cristo, Ivanhoe, Dial 999, Danger Man, Maigret, Compact, The Third Man, Crane, Detective, Sherlock Holmes, No Hiding Place, The Saint, Armchair Theatre, The Wednesday Play, Adam Adamant Lives!, Paul Temple, Dr. Finlay's Casebook, Doomwatch, The Persuaders!, A Family at War, Coronation Street, Softly, Softly, Taskforce, Colditz, Play for Today, Z-Cars, Special Branch, Sutherland's Law, The Sweeney, Jason King, Survivors, Crown Court, Angels, Warship, Van der Valk, Space: 1999, The Onedin Line, Only When I Laugh, Nanny, Minder, and the first episode of Inspector Morse.
Frankly, other actors would NEED a time machine to fit that lot in.
Read More
Filed Under: