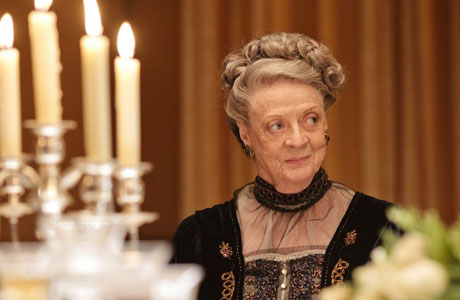 Maggie may — or may not. The mystery is deepening as to whether Dame Maggie Smith will be departing Downton Abbey after the hit British show's third season.(Own Season 2 of Downton on DVD.)
Smith plays Violet Crawley, the tart-tongued Dowager Countess on the show. Her withering putdowns have made her a fan favorite.
The New York Times is reporting in a blog post on its web site that Carnival Films, which produces the show, on Monday denied a weekend report by the UK newspaper, the Daily Mail, that Smith was headed for the exits of Downton's grand family manor. The Mail's story had quoted an anonymous source as saying that Smith had asked Downton creator Julian Fellowes to write her character out of the show at the end of Season Three so that she might pursue other roles.
According to the New York Times, a Carnival spokesman dismissed the Daily Mail story, as "complete nonsense," adding, "We never comment on future story lines but it's not true that she's leaving."
When the NYT reporter went for more to PBS's Masterpiece, which airs Downton Abbey in the U.S., he was told that Masterpiece never discusses future storylines. And what did Dame Maggie have to say? When contacted by the NYT, a representative for the actress declined to comment.
So is there at least a wisp of fire behind the Daily Mail's smoke? Time to haul out that hoariest of TV clichés: stay tuned.
Should Maggie Smith stay or should she go?
Read More
Filed Under: