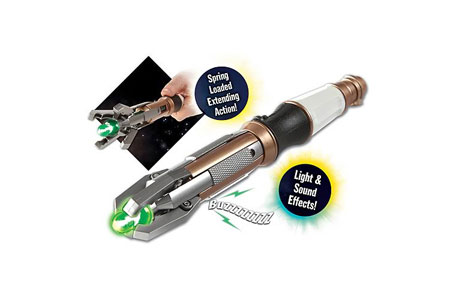 So it's official then. Doctor Who can take its place alongside the great pioneering science fiction writings of Jules Verne and Isaac Asimov as a leader of actual technological development, and creators of science FACT. By which I mean, hold on to your tweed, Earthlings, an actual sonic screwdriver is on the way.
Researchers at Dundee University, who are looking at finding ways to manipulate certain objects, such as drug capsules, by remote means, say they've come up with a prototype device which uses ultrasound to move objects. They have successfully rotated a rubber coin in a cylinder of water, a first for ultrasound technology, and are now working out what else it can do.
Dr. Mike MacDonald of the Institute for Medical Science and Technology, told the Radio Times: "Like Doctor Who's own device, our sonic screwdriver is capable of much more than just spinning things around.
"This experiment not only confirms a fundamental physics theory but also demonstrates a new level of control over ultrasound beams which can also be applied to non-invasive ultrasound surgery, targeted drug delivery and ultrasonic manipulation of cells,"
So far we are not sure if it has a green or a blue light, however.
Here's what else is going on in time and space this week:
• With the 50th Anniversary of the show looming, one possible returning actor who won't need to be asked twice is John Barrowman. Having made no secret of his desire to don Captain Jack's greatcoat one more time, he was asked about the anniversary at C2E2, and was quick to tell the audience: "I think it would be a shame if Captain Jack wasn't involved in the 50th anniversary, because he was such a big figure and a big presence within the show itself and also within Torchwood."
So there, consider that a hat tossed into a ring.
By the way, here's a bit of Barrowman at C2E2:
Ah, what the hell. Have more. It's not a Barrowman panel without breaking into song, and the duet he does with an audience member at 16:00 (of "The Doctor and I," naturally) is gargantuan:
And here's Part 3. At 5:00, he talks about his openness for involvement in Doctor Who's 50th anniversary:
• Oh look, the YouTuber ColonelBarker is building a Dalek. Or has invited one around for a barbecue dinner:
Meanwhile, YouTube user IHaveaCupcake constructs a tiny TARDIS charm, complete with intricate detail work, out of polymer clay. The video is seven minutes long, but we were mesmerized:
• Strange news reached us this week of one of Matt Smith's less successful auditions, before he became the Doctor. It seems his sister Laura Jane helped him to get ready for a potential role in the ITV drama series Footballer's Wives (you can pretty much guess what it's like, right?), and we're using the word 'helped' quite wrongly, as she revealed to the Daily Mail:
"I had a friend who worked on Footballers' Wives so I covered Matt in fake tan, gelled his hair, made him wear salmon trousers and sent him for an audition. He didn't get the part, which was probably a good thing. That kind of look definitely isn't him."
• This week, the Rogues Gallery has turned a spotlight on the Autons: the soldiers of the Nestene Consciousness, who can make anything plastic into a deadly weapon, from a showroom dummy to an inflatable chair.
• Meanwhile, Den of Geek have put up an appreciation of the Cybermen. It is all about the baddies these days.
Read More
Filed Under: