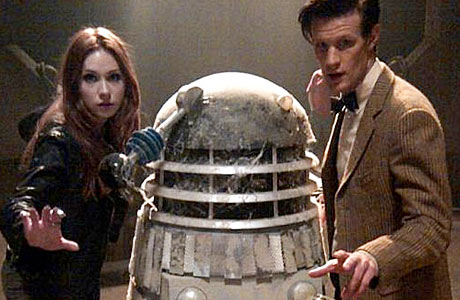 In case you missed the big news from the new series, here's how the Doctor Who website teased one of the bigger revelations we can expect. Amid a gallery of close up shots depicting various Dalek parts, they said: "Here are some sneaky pictures fresh from the set of Doctor Who, where the Daleks are being wheeled before the cameras once again. But which design? The answer is ALL OF THEM!"
• This hot news prompted the BBC 6 Music presenter Peter Serafinowicz to create this delightful video, based on what an off-duty Dalek does in order to make ends meet, the Dalek Relaxation Tape:
• Incidentally, can we put in a request that if there's a story in which all previous Dalek designs get a look-in, something similar happens with the Cybermen too? If only because it would be so great to see these fellows standing next to the current models:
http://www.youtube.com/watch?v=3QAVoTm4Yng&feature=related
• Our friends over at Buzzfeed have launched two witty Whovian posts: 5 ways to know if you're a Time Lord and a gallery of minimalist Doctor Who posters created by Karma Orange.
• We always love to see people making their own Who-related stuff, so hats off to Abigail Kate, a make-up and effects aficionado, who's been making her own Silence masks, as this video ably demonstrates:
• A Doctor Who/Sherlock/Merlin/Supernatural/HUNGER GAMES mashup? Yes. Yes indeed:
• How is this for "Meta"? Inspector Spacetime takes control of the TARDIS:
• Meanwhile, over at the Doctor Who Facebook page, it's officially Fish Fingers and Custard Day, in honor of the second anniversary of the Eleventh Doctor's arrival. They've been asking fans to send in videos of themselves eating fish fingers dipped in custard, and even have a recipe to try and mitigate against it being just terrible mouthful of yuck. It's all in response to this video:
And if you're on twitter, the hashtag is #fishcustard. Just so you know…
• We've been rolling out our brilliant Doctor Who Convention interviews with the Who cast and crew, including chats with Matt Smith and Karen Gillan about fan cosplay and their advice for the new companion, actress Jenna-Louise Coleman. Now we bring you some clips from faces you've not likely seen before, but who have been instrumental in the series' success. First up, Nick Briggs, a.k.a. the voice of the Daleks, talks about why the most iconic of Who villains have remained fearsome over the years:
Plus, how does one get a job as the voice of the Daleks? Briggs explains:
Also, how do Doctor Who's monsters and alien go from ideas to fully-fleshed beings. The show's prosthetics designer Neill Gorton chats about how the art of crafting lifelike creatures has evolved over time:
Read More
Filed Under: