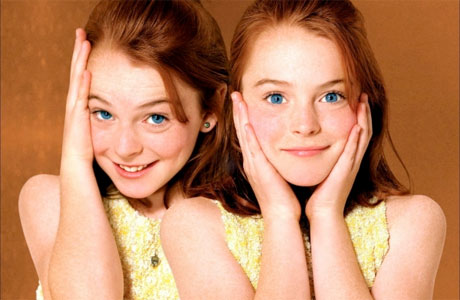 The producers of the 1998 Disney remake of The Parent Trap must have been terrified when they first started casting for a child actress who could pull off a decent English accent, especially knowing she would have to play against Natasha Richardson. I mean, yes, the corporation don't have the best track record when it comes to the UK and the way we speak (never mind Dick Van Dyke, the voice of Jock the Scottish terrier in Lady and the Tramp is SHOCKING), but they'd been getting better, and it's still a big ask, especially when you want your actress to be playing the emotion of the scene, rather than glazing over as she tries to remember how the English say "certainly."
Luckily, they found the right girl for the job in Lindsay Lohan. Tie her hair up, and she's every inch the prim English maiden Annie, let it hang loose and she's the rough and tumble American scamp Haile. Never mind the odd weird vowel here and there, it's a remarkably convincing performance:
So, hats off all round, and never mind what came next. Except now there's news that Lindsay, fresh from a run of highly publicised courtroom dramas that will definitely be made into a TV movie in a few years, is to star in a TV movie of her own. She's signed up to a Lifetime production, Liz and Dick, which revolves around the sensational (in every sense) relationship between Elizabeth Taylor and Richard Burton. Lindsay is playing Elizabeth, which means that accent will be getting a dusting-off once again – with certain transatlantic megastar modifications – and very probably that voice coach too.
"I have always admired and had enormous respect for Elizabeth Taylor," Lindsay told the press. "She was not only an incredible actress but an amazing woman as well. I am very honored to have been asked to play this role."
For their part, Lifetime's executive Vice President of programming Rob Sharenow gushed that Lindsay is "one of the rare actresses who possesses the talent, beauty and intrigue to capture the spirit of such a provocative icon."
Which only leaves one thought. Talent, yes, beauty, yes, but INTRIGUE? Tabloid-darling Lindsay Lohan? Really? On a scale of intrigue that has pornography at one end and the Mona Lisa at the other, I'm fairly sure which side Lindsay's needle tends to favor.
Read More
Filed Under: