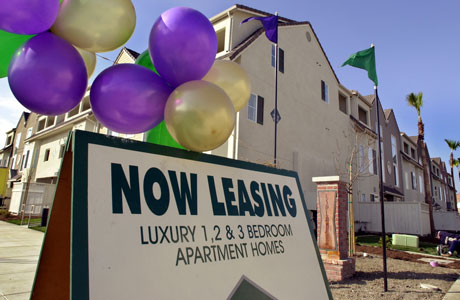 "Check out the claw-foot tub!" cooed Pam the realtor. I was two weeks into the world's most torturous flat-hunt and getting desperate. But the bath, flagged as this Brooklyn apartment's major selling point, had a lumpy veneer, like it had been enameled with masonry paint and porridge. Worse still, the bottom-left foot had wandered off and been replaced with a brick. It was, explained the agent, a minimalist bathroom (i.e, one without a sink, shower attachment, window or door). Elsewhere, all that separated the mildewy bedroom from the dank lounge was a depressing bookcase. It was by far the nicest apartment I'd seen that day.
There's no easy way to say this, so I'll just put it out there: renting in the US, particularly in a city, is hard and hugely competitive. It's worse still if you're new in town and foreign, but it helps if you know where to look.
Craigslist
Depending on who you ask, this classified ad site is an essential apartment hunting tool, or a shortcut to being swindled and jumped by a serial killer. If you do brave Craigslist, take a well-built friend to viewings, and consider passing up dreamy wood floors and marble countertops if the person who greets you at the door is carrying a chainsaw and the last tenant's head. Also, avoid scammy ads peppered with exclamation marks and too-good-to-be-true pronouncements ($300/6 br!!!!!! Has hot tub!!!!! Treasure buried in yard!!!!!!). Craigslist is, however, the best place to snaffle a bargain, avoid hefty fees and sidestep pesky credit checks.
Realtors
This route is safer and more reliable but you'll probably pay for it (agent fees are usually between one and two month's rent). And a landlord who's working with an agent is less likely to overlook the fact that you don't have U.S. credit. Alas, a perfect score in the UK counts for nothing here, though you might persuade some landlords to overlook your lack of credit history by offering an extra month's rent. But if you manage to find a friendly, effective realtor, cling on tight. Make them like you more then their other (less charmingly British) clients, and you'll be the first person they'll call with new listings. Be polite when they try to sell somewhere with a broken bathtub and no sink because the next place might be a palace. FYI, in my case, the next place turned out to be a basement sex dungeon. Though, not long after, a brilliantly professional realtor called Luke found us a fantastic apartment with wood floors, high ceilings and an amenable owner.
Grapevine
This is the best option if you can pull it off. Find out who's moving and take over their tenancy. You'll still have to tackle the landlord, though he might be feeling generous if he's not had to advertise for tenants. But this option is tricky if you've just moved to a new city and don't know anyone. There are, however, ways to access that information without a friend network. Americans love a yard or stoop sale, and people tend to have one just before they vacate. So look and ask. Otherwise, hang out in cafes, shops and bars and listen in on chatter. People here talk property a lot and, unlike us stuffy Brits, don't tend to mind strangers butting in on their conversations.
Which method proved most fruitful in your apartment search? Tell us below:
Read More