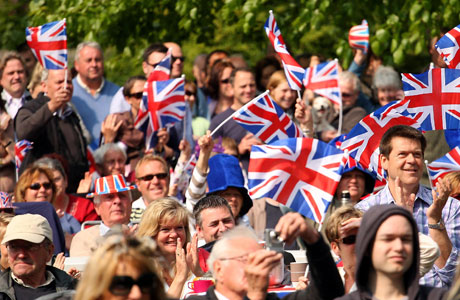 We Brits have been throwing street parties to congratulate our royal family on marrying, reigning and aging for more than a century. (FYI: that's why bunting salesmen are the real 1%.) It just so happens that our splendid sovereign Queen Elizabeth II is about to celebrate her Diamond Jubilee, which means there have been 60 years since she scored her current job title, the fancy chair and sparkly hat. To mark Her Maj's big day, UK residents will get a super-sized bank holiday, from June 2 – 5. For half a week, thousands of fabulous street parties will render residential roads useless. Hurrah!
But just because you're an expat living in a monarch-free land, there's no reason why you can't have a celebration of your own. Americans love all things Windsor – some 23 million of them tuned in to watch Wills and Kate wed last year. So let your neighbors know that you, a genuine Brit, want to organize a Diamond Jubilee Street party and they'll be overjoyed. There may be some whooping.
Once everyone's on-board, you'll need to get official permission. Google "block party", "permission" and your state or city to identify which local government official you need to call.
Street parties take serious planning, from the food and drink (beer MUST be served at room temperature) to the music (the National Anthem and "God Save the Queen" by the Sex Pistols are compulsory) and decorating. And don't forget to consider your younger attendees: a zone for children with games, face-painting and minders will go down well with everyone, especially parents.
Encourage everyone to contribute something on the day. If they're not biting, appeal to people's competitive side by staging a Big British Bake Off with a twist: have them make cakes that best sum up the Queen. Victoria sponges are sooo two centuries ago.
And about the food: baked goods should be made exclusively with butter or one of its close relations , preferably margarine. That same spread will be invaluable for the sandwiches. Americans – the weirdos – seem to think the correct way to stick bread to filling is with mayonnaise. Nonsense. Calmly explain that the Queen has butter in her butties – the Duchess of Cambridge does, too – and you'll hear no complaints.
Nothing says "street party" like Union Jack bunting (see Amazon or hipster craft site, Etsy). Alternatively, you can fashion your own. Organize a pre-party "make" session in which you and your guests cut out your own triangles. There are plenty of tutorials on YouTube.
If you're intent on achieving that authentic, ropey-round-the-edges, British street party feel, you should really hire some beaten up trestle tables to hold your cucumber sandwiches and fairy cakes. Dress them with Union Jack tablecloths.
Still think your party plan is lacking the wow factor? I have only this to say: life-size cardboard cut outs of The Queen.
Anything we've missed? Tell us below:
Read More
Filed Under: