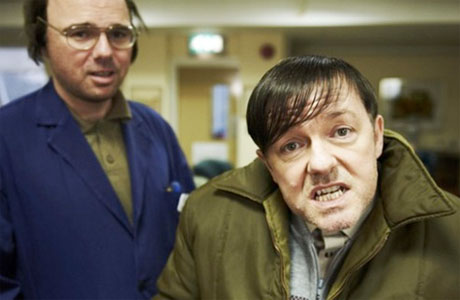 This picture is taken from the pilot episode of the new Ricky Gervais comedy Derek. It was directed by Ricky, written by Ricky, and stars Ricky as Derek Noakes, a character he developed around the same time as David Brent (who was just called Seedy Boss at the time).Derek is a simple soul, not someone with a learning disability or mental impairment per se, but a kind-hearted man who is unburdoned by sophisticated worries (and delighted by worms).
Or to put it into typically brash Gervais-speak: "He's cleverer than Baldrick and Father Dougal and he certainly hasn't got as big a problem as Mr Bean"
It also stars Ricky's protege Karl Pilkington in his first dramatic role after being sent around the world in An Idiot Abroad, and takes the format of a mock-documentary about Derek's life. The pilot did include two celebrity cameos, from Emma Bunton and TV presenter Dermot O'Leary, although they've since been cut out. Stephen Merchant is not involved this time around.
The pilot is due to air on Channel 4 on April 12, and if you want to know if it's going to be a) cruel fun, b) a rehash of former glories, c) as bad as Life's Too Short, d) yet another Ricky Gervais mockumentary in which he scoots a nervous look into the camera after every funny bit e) the final nail in the coffin for disability campaigners who've had enough of Ricky's bruising attention, f) actually surprisingly warm and affectionate or g) all of the above, you might want to read this review in the Radio Times.
Still, he's good at presenting awards, let's give him that.
Read More
Filed Under: