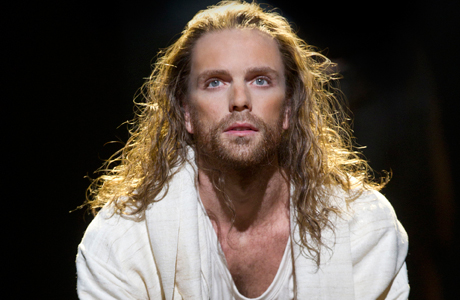 Forty years after it first played on Broadway, Jesus Christ Superstar is back. And when Tim Rice, who wrote the lyrics, is asked why the musical has endured for so long he simply says: "It's a good piece, which is very arrogant, but probably true."
The musical, which tells the story of the last week of Jesus Christ, was one of the early collaborations between Tim Rice and Andrew Lloyd Webber.
As 67-year-old Rice puts it: "It's got a youthful energy, it was something that we wanted to write, and we did it for the right reasons. We weren't being commercial, we weren't trying to do things cynically, and I think that comes through in the piece."
Rice concedes it was easier for him to write musicals in the past when he had a lower profile because the expectations of others were lower.
He recalls: "Once you've had a few successes or once you're in the public eye, you get weighed down a bit by thinking, 'What will so and so think, and will it be as good as the last one?' We were free. We were able to write what we wanted."
Another past joint creative endeavor from Andrew Lloyd Webber and Tim Rice will arrive on Broadway early next month with the opening of a revival of their classic hit Evita.
Ricky Martin is playing Che, and the Argentinian actress Elena Roger is in the role of Eva Peron.
Evita was Webber and Rice's last major joint musical enterprise and although they've had their ups and downs over the years the fact remains that their collaborations have delivered some of theater's most successful musicals.
Tim Rice recalls their earlier years of partnership: "We weren't quite sure what we wanted to do. Andrew I think had a much clearer idea than I did. He was definitely theater. I was still wanting to be Mick Jagger really. Still would like to be Mick Jagger, but I think that's probably passed now. I think we were just two people whose talents such as they were met at the right time, and we had two or three jolly good ideas, and it just worked, so we were lucky."
Rice has been well-rewarded for his talents. Among his trophy collection are Oscars, Grammys, Tonys, Golden Globes, and many others. But how does he respond when reviewers don't praise his work — which has at times been the case?
"I think some criticism is very useful," he says. But adds: "It depends. There are some critics or comments, which you think, 'Well, that's just insanity.' Others you think, 'Yeah, he's got a good point there,' so anything that's successful is going to get a lot of people saying it's great and a lot of people saying it's absolutely appalling, and the truth is usually somewhere in the middle."
Tim Rice is currently working on a new musical. It's an adaptation of the novel From Here to Eternity, which famously became a feature film starring Burt Lancaster and Deborah Kerr.
Read More
Filed Under: