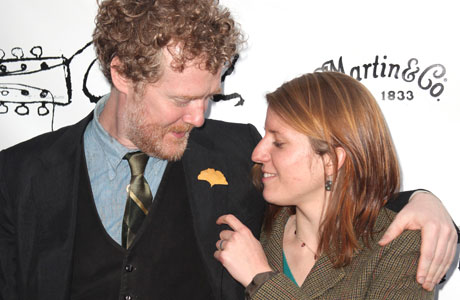 Once, the new Broadway musical based on the low-budget Irish film of the same name, has opened to rapturous reviews and the full endorsement of Glen Hansard, the Irish musician who co-starred in the picture.
Standing in front of the Bernard B. Jacobs Theatre, alongside his collaborator from the film, and one time paramour, Markéta Irglová he proclaimed: "I think they've done a wonderful job."
Once tells the story of an Irish street musician in Dublin and his tentative romantic relationship with a Czech immigrant flower-seller and pianist.
The film was released five years ago after it had been made on a shoestring budget and shot in just 17 days. It went on to win an Oscar for one of its songs, "Falling Slowly," and enjoy success in cinemas around the world.
Hansard and Irglová's music and lyrics are at the heart of the Broadway musical but the show has been put together by a separate creative team led by British director John Tiffany.
Hansard was effusive with his praise: "These guys have taken it and done something really different with it. We're just here to support them and sit back and watch this amazing thing that we were involved in at one point have a new life."
From its inception the film was always a micro budgeted undertaking driven by the passion of those involved and their love of music.
That it has risen from humble beginnings to high-profile Broadway musical clearly means a lot to Markéta Irglová.
She says: "It just shows you that if you do things for the right reasons and with good intentions you don't really have to worry about the outcome because it takes care of itself. We wouldn't have envisaged or imagined any of this and it just keeps on going and surprising us in the most wonderful ways."
Read More
Filed Under: