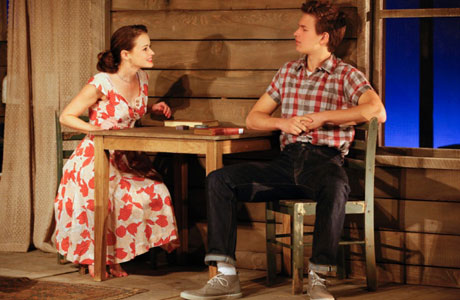 Matt Charman, one of Britain's top young playwrights, made his New York debut last night (March 27) with the world premiere of a play set in 1950s America where anti-communist hysteria is forcing people to snitch on their friends and colleagues.
His new work Regrets, which has just opened at Manhattan Theatre Club, revolves around a group of men at a divorce ranch is Nevada. One of the men is under pressure because of his communist sympathies.
32-year-old Charman has been described as Britain's fastest rising young playwright. There may be an element of hype in that assessment, but he's certainly done very well since winning an award for his first play, A Night At The Dogs, eight years ago. His subsequent plays, which premiered at Britain's National Theatre, won strong reviews and piqued the interest of Hollywood. He is currently working on a screenplay.
The era in which his new play is set is a time period that definitely fascinates Charman. He says: "The issue of Communism and what McCarthy did in the 50s does always make me think as a human being, 'What would I have done?' Put in a position where I had to make a choice, what would my choice have been? Would I have saved myself, possibly my family, or would I have exposed other people and sort of cut them loose?"
"I'd like to think that I'd have made the right moral choice," he adds.
The playwright is bringing an outsider's eye to an American era but he doesn't think the audience is focusing on the fact that the play has been fashioned by a British writer. "From the previews that we've had already, that no one in the audience talks about the fact that I'm British. They're immersing themselves in it, and they're not looking at it through the veil of a British writer writing about that, so that's good I think," he says.
Charman has big ambitions. He confirms he always has particular actors in mind when he's writing. He says, "They tend to all be women for some reason. I don't know why. I'd love to write something for Judi Dench. I'd love to write something for Meryl Streep. Julie Walters I think is incredible."
Regrets runs at the MTC in New York until April 29.
Read More
Filed Under: