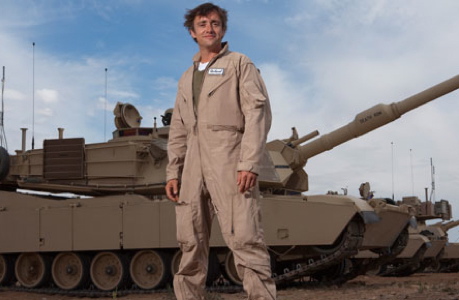 "It's mayhem in the name of modern machinery — multi-car pileups, rampant street fires and loose goats," writes Wired magazine about Richard Hammond's Crash Course. And they're only talking about the first trailer, which features Hammond and an Abrams tank mishap. Take a look.
Wired also caught up with Hammond to talk about Crash Course in its Storyboard podcast. Speaking to the magazine's Nathan Mattise, Hammond says that for his U.S. show, he sought  "the best, the biggest, the most focused and, more importantly, the hardest working vehicles." But it wasn't just about the machinery, Hammond said. "These are things with a job to do. They're not toys, they're not hobbies, they're not games." Because they're machines for people with jobs to do, he said, they became great vehicles for getting to meet fascinating people. Listen to the full podcast here.
• A new survey by a British insurance broker has found that Jeremy Clarkson is the celebrity that many van drivers would like to have in their passenger seat.
Swinton Vans, a broker of commercial insurance, conducted asked 1000 customers and found that Clarkson would be "their perfect celebrity apprentice."
Clarkson's was a Romney-style victory, with just 29 percent, followed closely by British comedian Jimmy Carr at 26 percent. Soccer star Rio Ferdinand came in third (18 percent), with Sky Sports personality Georgie Thompson (14 percent), and Radio Five Live presenter Richard Bacon (13 percent) rounding out the pack.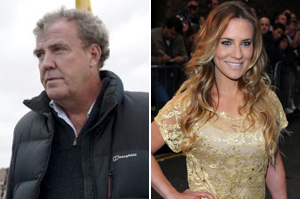 The take-away, however, would seem to be that our Top Gear guy beat out a professional comedian and garnered twice as many votes as the glamorous sports commentator Thompson, who was once named the 93rd Sexiest Women in the World by FHM magazine.
"Despite his controversial opinions," said Swinton Van's Phil Moss, "Clarkson is funny and he could give you some insight into the best cars and vans that would be sure to pass the time."
• Meanwhile, Apprentice creator Donald Trump gave the American blokes on the U.S. version of Top Gear a run for their money. The show's three American gearheads were told to select a car for the Donald – who then promptly fired the two hosts whose recommendations he didn't take. Watch the video on the Huffington Post.
 • Top Gear UK reports on a car vs. man-wearing-a-jetpack race. "Nick Macomber, who must be an honorary member of the Buzz Lightyear fan club," writes the website, uses a jetpack "actually inspired by equipment developed by NASA in the 60s." See how Macomber does against a Renault Megane:
http://www.youtube.com/watch?v=ClZ2XfgWMrg&feature=youtu.be
We don't care who won. We still prefer the jetpack.
• Another "inter-vehicle" race was sponsored by the Italian version of Top Gear's magazine, which created a match between a car and a skier. The car was a Peugeot 207 Super 2000 driven by race driver Paolo Andreucci. The skis were driven by Anna Andreucci.
• Jalopnik spotted two connected world records this week: the world's fastest 3D nanoprinter and the "smallest car in the universe." Researchers at the Vienna University of Technology have developed a printer that uses a liquid resin hardened by lasers to make incredibly small 3D objects. And they're talking incredibly small. The printer made a racecar that measures  about 285 microns, approximately the thickness of a human hair. Or put another way, the car could lose its parking space to a dust mite.
Read More
Filed Under: