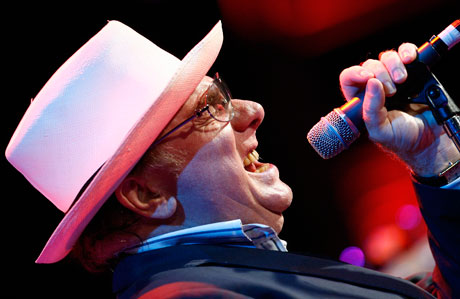 It doesn't matter where you go, it could be Dundee, it could be Tampa, it could be Birmingham, Alabama or Birmingham, England: if you go into a bar where there's live music, and it's just a dude with an acoustic guitar, he will know all the words to "Brown Eyed Girl" and he will play if for you if you ask.
The reason for this is simple: it's happy. It's a happy, happy song which lifts the spirits and gladdens the heart. It conjures up the memory of wondrous youth with such vivid detail that just for a second or two, you get to relive it. Quite how it came to be written by one of the grumpiest men in showbusiness is quite another matter.
Van Morrison is from Belfast, Northern Ireland (which is still technically in the UK, before anyone starts). He first found fame with the drooling blues purists Them, spitting fire and bellowing like a trapped ox, and writing (among other gems) the garage rock staple "Gloria." Them were plagued by business problems and infighting, and split after a couple of albums, leaving Van to embark on a solo career.
He then became embroiled with Bert Berns, the MD of Bang Records, and signed away control over his early solo work. Having recorded a bunch of songs for what he thought was a series of singles, Van was dismayed to discover they'd been compiled into an album, and given the voguishly trippy title "Blowin' Your Mind," the first song of which is "Brown Eyed Girl," which had been retitled from the more pointed (especially in 1967) "Brown Skinned Girl" in order to appease radio pluggers.
He later disowned the album, claiming his real debut was the remarkable (and very different) "Astral Weeks." And it a lot of ways he was probably right to do so.
Not that any of this affects the giddy thrill of "Brown Eyed Girl." It's a song that defies adult concerns the way bleach defies germs. It may have run into trouble with censors, who wanted "making love in the green grass" taken out, and replaced with a repeat of "laughing and a-running, hey hey," but nothing can put a damper on the joy it carries in its wake.
Hell, it's even Billy Ray Cyrus-proof. And that ain't nothin':
Any suggestions for the Great British Songbook? Tell us here:
Read More
Filed Under: