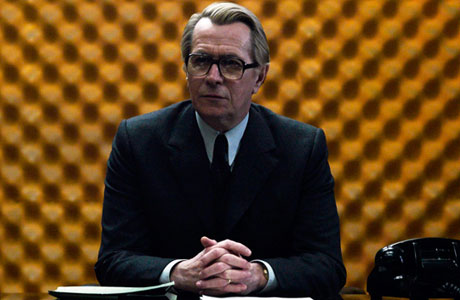 Touted as one of last year's best pictures, Tinker Tailor Soldier Spy certainly has an impressive pedigree. Starring veterans Gary Oldman and John Hurt, the film also includes the likes of Colin Firth, Toby Jones, and Ciarán Hinds, not to mention current hot property Benedict Cumberbatch. The film is, of course, based on the best-selling eponymous novel by former British spy John le Carré. (Own it on DVD and Blu-ray.)
TTSS begins with a taut, suspenseful scene which follows an MI6 agent, Jim Prideaux, as he searches for information regarding an MI6 mole. The operation (titled "Operation Testify") is botched, and Prideaux's boss Control's reputation is destroyed. Shortly after Control's ignominious death, his right-hand man George Smiley (Oldman) emerges from retirement to seek out the same mole in MI6. Meanwhile, Percy Alleline (Toby Jones), a power-hungry man who took Control's seat, and his cronies Roy Bland (Hinds), Toby Esterhase (David Dencik) and Bill Haydon (Firth) are waist-deep in the intelligence currently being provided by Source Merlin, a USSR contact. Cumberbatch plays Peter Guillam, a head Scalphunter who took over Prideaux's job when the latter disappeared, and is Smiley's man on the inside.
The film is generally quite true to its source material, though it is natural for a viewer who is unfamiliar with le Carré to be utterly confused. Both book and film do not delve into unnecessary subplots, and are generally quite on par in terms of characterization. But for those of you who went to see TTSS without reading the book (and came out scratching your heads), scrambling the intense jargon can be a difficult process. Here's a glossary for all the vocabulary used in the book to specify occupations, locations, and code names.
1. Circus – the in-house name for MI6.
2. Moscow Centre – the Russian secret service.
3. Nursery – the MI6 training centre.
4. Control – former head of MI6; his suspicions incite the search for the mole Gerald; it is implied that his death from cancer is sped up due to the stress of Operation Testify's failure.
5. Source Merlin – a source who provides seemingly invaluable material on the USSR; the data is in reality Russian "chickenfeed," designed to to turn away the senior officers' attention from the mole Gerald.
6. Gerald – the mole Control seeks, later revealed to be one of .
7. Sarratt – the location for MI6 interrogations.
8. London station – the London branch of MI6.
9. Scalphunters – MI6 agents who handle kidnapping, burglary, blackmail and assassination; this department's role in major operations was reduced after Control's death.
10. Honey-trap – a blackmail operation involving/motivated by sex.
11.Housekeepers – the finance department within MI6.
12. Inquisitors – MI6 interrogators; their main goal is to keep senior officers and defectors abreast of intelligence operations.
13. Janitors – operations staff at the Circus. They act as security guards and ensure that all members have verified security clearances.
14. Lamplighters – the surveillance department at MI6.
15. Mole – the term used for an agent who works his way into an organization to spy on his own country; le Carré has previously said this term was actually used in the KGB.
16. Mothers – the typists and secretaries for senior MI6 officials.
17. Nuts and Bolts – MI6's engineering department, which constructs espionage devices.
18. Pavement artists – MI6 operatives who follow people in public.
19. Shoemakers – MI6 document forgers; they provide passports and other documents when needed.
20. Wranglers – MI6 cryptographers.
Have we missed anything? Tell us below:
Read More
Filed Under: