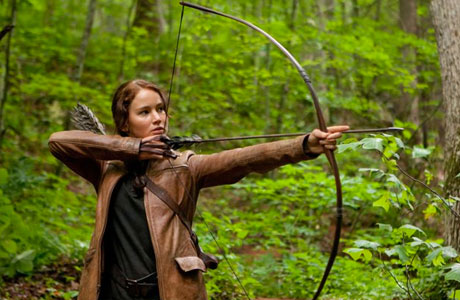 By signing on to adapt Catching Fire, the second volume of the bestselling Hunger Games trilogy, British screenwriter Simon Beaufoy has reached a new high in his career.
He's already started work on the Catching Fire screenplay even though the first Hunger Games film isn't out in cinemas until next week.
Beaufoy, who won an Oscar three years ago for his Slumdog Millionaire screenplay, is a big fan of Hunger Games author Suzanne Collins' work set in a post-apocalyptic future, in which teens fight to the death in a televised spectacle.
On the novels Beaufoy says: "I think they appeal absolutely to teenagers because they're so bold and so uncompromising. When someone gets a spear in them nobody waves a wand and they get up again. They're dead. So they're completely bold like that."
Beaufoy thinks that Collins really knows what her readers want. "I think Suzanne Collins very, very cleverly treated teenagers exactly as teenagers want to be treated, with great seriousness — and they're perfectly capable of taking very adult themes and a very grown up approach to life," he says.
The British screenwriter sees the Hunger Games trilogy as very insightful: "What they are subtextually is a treatise on warfare. The first in the trilogy is about single warfare for survival. The second one is about rebellion and revolution, and the third one is about all out warfare."
He thinks the books have great topicality: "They're incredibly relevant when you think about what's happening with the Arab Spring and the rebellion that's going on in Syria," he says.
One of Beaufoy's other big projects is his adaptation of Sharp Teeth, which he describes as "an epic poem about L.A. gangs who also happen to shape-shift into packs of dogs."
He's just finished the first draft of that screenplay and is now working on the second. There's been much talk that he will re-team with Slumdog director Danny Boyle for the film.
Beaufoy says: "I'd love it if Danny was to do it, but he's very, very occupied with other things at the moment."
Boyle is currently engaged as the artistic director of the opening ceremony of the 2012 Olympics.
Are you looking forward to The Hunger Games films? Do you see any real-life parallels with the Arab Spring? Tell us below:
Read More
Filed Under: