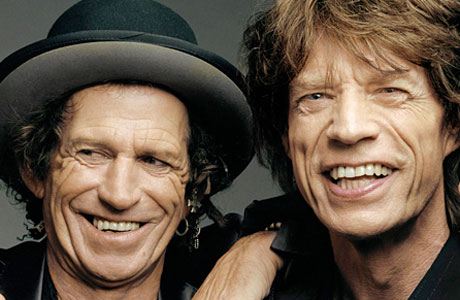 Well now, here's a story which is kind of a surprise and yet also no surprise at all. Mick Jagger and Keith Richards have announced they've put their bickering behind them, and are finally able to spend time together as friends, just like they used to.
The squabbling Stones hit a rough patch in their long relationship after the publication of Keith's autobiography Life, in which he took several pot-shots at Mick, not the least of which was a suggestion that he's less than well-endowed. Classy stuff.
However, they've made a real effort to put it all behind them, and while they won't be touring to celebrate the 50th anniversary of the Rolling Stones next year, they firmly intend to tour in 2013 instead.
Mick told the Mirror: "Looking back at any career you are bound to recall both the highs and the lows. In the 1980s, for instance, Keith and I were not communicating very well.
"I got very involved with the businessside of the Stones, mainly because I felt no-one else was interested. But it's plain now from the book that Keith felt excluded, which is a pity. Time, I reckon, to move on."
And Keith added: "Mick's right. He and I have had conversations over the last year of a kind we have not had for an extremely long time and that has been incredibly important to me.
"As far as the bookgoes, it was my story and it was very raw, as I meant it to be. But I know that some parts of it, and some of the publicity, really offended Mick and I regret that.
"What some of our detractors forget is that although we look like old codgers living an ocean apart we are still at bottom the boys on platform 3 at Dartford station."
Which does at least make sense of that whole "haha you've got a tiny todger" thing. By rights, Mick should've given Keith a dead arm and they'd have been sorted ages ago.
Read More
Filed Under: