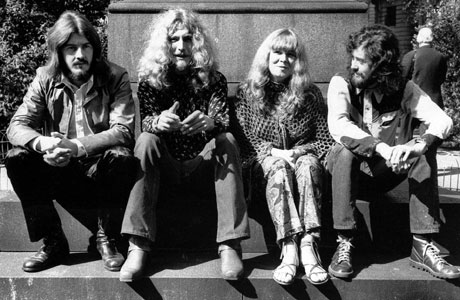 The proceeds from the reunion concert Led Zeppelin gave in 2007 have gone towards a £26 million scholarship at Oxford University, funding students who wish to study the humanities.
The band only reformed to pay tribute to the legendary founder of Atlantic Records, Ahmet Ertegun, who had died the year before. It remains their sole official reunion since they split in 1980 and all parties agreed that the money should go into the Ahmet Ertegun Education Fund, which is run by his widow Mica.
She has now given the money to Oxford, one of the biggest donations the university has ever received, creating The Mica and Ahmet Ertegun Graduate Scholarship Program in the Humanities, which will offer financial assistance for students wishing to study literature, history, music and art history.
The program will begin with 15 scholarships, with the aim of expanding this to 35 each year over time. Both Mica Ertegun and Led Zep bass player John Paul Jones attended an event at Oxford University yesterday, to launch the scholarship.
Mica told the Daily Mail: "For Ahmet and for me, one of the great joys of life has been the study of history, music, languages, literature, art and archaeology."
In these times, when there is so much strife in the world, I believe it is tremendously important to support those things that endure across time, that bind people together from every culture, and that enrich the capacity of human beings to understand one another and make the world a more humane place."
Here's some of the footage of the band playing that night, as shown on BBC News:
http://www.youtube.com/watch?v=lLKWdgAP-Bk&feature=related
Read More
Filed Under: