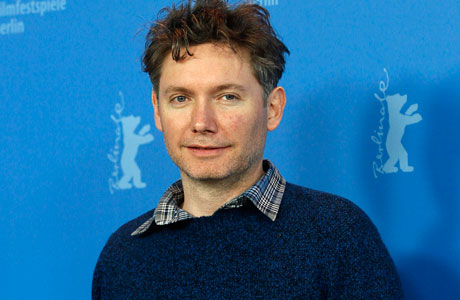 Scottish director Kevin Macdonald confirms that 17-year-old Irish actress Saoirse Ronan is breaking new ground in his forthcoming feature How I Live Now. He says: "It's one of the first roles she's done where it's a sexualized role, an adult role, rather than her playing what she's done mostly up until now – play children."
In the film, Ronan portrays a teenager from New York who travels to Britain to spend time with her cousins in a crumbling house, only to find that World War III breaks out.
Macdonald says: "It's not a mainstream movie. It's quite a small movie. Deliberately we've got no American money in it because it's slightly controversial. I didn't want to get tied up with that and the studio wanting to soften things in it. So it's an entirely European production."
Macdonald was commenting on How I Live Now during a promotional interview for Marley – his completed documentary on Jamaican-born music legend Bob Marley that will be released next month.
Marley, who died in 1981, is a singer-songwriter and musician credited with playing a key role in spreading reggae and the Rastafari religion to a worldwide audience.
The filmmaker sees Marley as "the most influential musical figure of the 20th century. And that's not an exaggeration!" Fans of other iconic 20th century music figures would no doubt challenge that assessment. Might not John Lennon or Michael Jackson also qualify?
Macdonald says: "John Lennon made wonderful music, which people listen to as music. Nobody around the world is living their life according to the precepts of John Lennon. They are living their life according to the precepts of Bob Marley –whether it be in the transmission of Rastafarianism, whether it be the fashion for deadlocks, whether it be the fact that people are listening to his music who are Tibetan exiles, who find in his music an echo of their own problems, their own desire for emancipation – none of that is the case with John Lennon, or with The Rolling Stones, or with Michael Jackson."
Macdonald's documentary is a very comprehensive examination of the singer-songwriter's life. It incorporates concert footage and interviews to trace his rise to international super-stardom from his roots in a Jamaican village to his untimely death from brain cancer at the age of 36.
The film has been authorized by Marley's family who gave the director full cooperation. Macdonald maintains his independence wasn't compromised because of the family's involvement.
He says: "This film is completely untouched by any interference from the Marleys or anybody else. I was given complete carte blanche. And I made it clear when I got involved that that was the terms under which I would make the film. So it's a very frank film. You can see that he wasn't a perfect man."
How much do you agree with the statement that Bob Marley is the "most influential musical figure of the 20th century?
Read More
Filed Under: