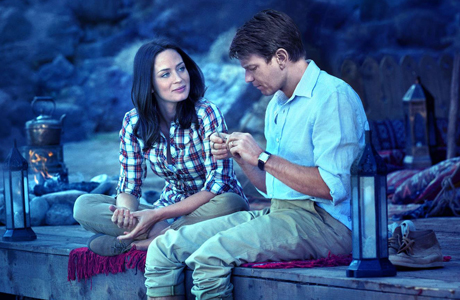 Ewan McGregor and co-star Emily Blunt have been pressed by U.S. journalists to explain the odd title of their new movie Salmon Fishing in the Yemen inspired by a British bestseller.
McGregor says: "I rather think it's a great title, because it does pique your interest. It is a sort of unusual title I suppose, but then again, it is exactly what the film's about. The film's about salmon fishing in the Yemen, and that's the name of the film."
More precisely the picture tells the story of a sheik determined to bring salmon fishing to the arid desert of Yemen. His representative in London (played by Blunt) works with an initially reluctant fisheries scientist (McGregor) to bring the project to fruition.
Blunt thinks the unusual backdrop works in the films favor. "So often you have a very generic backdrop, and it leads to a rather generic story, and so why not have something ludicrous and farfetched?" she says.
The sheik (portrayed by Amr Waked) is an idealistic figure. According to McGregor, he's a man who sees fishing as a sport that brings people from all different walks of life together. "On the river they just talk about fishing, and they're united with this common passion," says McGregor.
Some critics have complained that the screenplay has softened much of the political satire that defined Paul Torday's novel on which the film is based.
Simon Beaufoy, who crafted the screenplay, says: "That's a very fair comment, but the thing about satire is that it's incredibly strong tonally. So it was a very delicate balance because it's really a love story, and if you put too much political satire in that you could kill the love story dead."
Salmon Fishing in the Yemen isn't a romantic comedy that reinvents the genre. But it certainly has its charms, despite a plot that falls a little too neatly into place.
Given the U.S. public's lack of knowledge of the film's source material, it's a movie that will have to rely on strong word of mouth to lift it at the box office.
For the two stars, it was a project in which they both appeared to genuinely enjoy one another's company. "We were irritatingly happy together," says Blunt.
Read More
Filed Under: