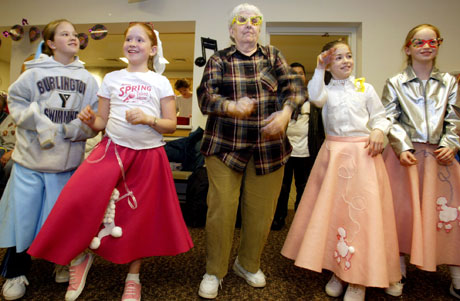 We all know the song, and we all know the lyrics. There's the thing about your left arm, it goes in, it comes out, you repeat, there's a bit of business with a funny name and a turn around, and that's basically what it is all about.
However, the history of the song itself is anything but simple. A hit on both sides of the Atlantic, for two different songwriting teams, "The Hokey Cokey" was born out of a spirit of wartime cooperation and wound up with multiple claims of authorship and a web of transatlantic disagreement over what it should even be called.
So, let's start at the beginning. There's a traditional children's song called "I Put My Little Hands In," (based on an old English/Scots folk dance called "Hinkim-Booby"), the lyrics to which go like this:
"I put my both hands in,
I put my both hands out,
I give my both hands a shake shake shake
And turn myself about." (repeat for other body parts)
Sound familiar? Indeed.
So the idea of having a song which contains actions and requires the putting in and taking out of bits of your body was not a brand new one, even during the Second World War, when there was a vogue for communal dances with actions, like "Underneath The Spreading Chestnut Tree."
Enter British band-leader Al Tabor. He claimed to have been approached by a Canadian officer, who suggested he write a knees-up sort of song with actions. Possibly half-remembering "I Put My Little Hands In", he came up with a similar line of instructions and added the term hokey pokey after remembering an ice-cream seller yelling "hokey pokey penny a lump. Have a lick make you jump."
Hokey pokey was a generic name for a serving of ice cream, at the time, which you'd get from a hokey pokey man. It was also the name of the waxed paper on which the servings  of ice-cream were sold, in the days before cones. Even now, hokey pokey lives on as an ice-cream flavour: vanilla with honeycomb pieces.
Having finished his masterpiece, Al presented it to the Canadian officer, who suggested he change the name to "The Cokey Cokey" because cokey was Canadian miner slang for crazy. And so in 1942, the first sheet music for this new dance was published.
However, it was published by the great Jimmy Kennedy, the songwriter behind "The Teddy Bear's Picnic" and "Istanbul (Not Constantinople," among other astonishing hits. And Jimmy's son always claimed it was his dad that had had the experience of talking to Canadian soldiers about the whole cokey thing. So it's not really clear who has the rightful claim to have written it. Al and Jimmy fell out over royalty payments, eventually resulting in legal action, and Al settled out of court, finally renouncing all claim on the song.
Somewhere down the line, during all the fuss, the song became "The Okey Cokey" and then "The Hokey Cokey" and that's the way it has stayed, over in the UK at least.
Meanwhile, in America, Robert Degen and Joseph P. Brier, two Pennysylvania club musicians, had copyrighted a song called "The Hokey Pokey Dance" in 1944. Then a group called The Ram Trio recorded "The Hokey Pokey," claiming to have come up with it while entertaining the apres-ski crowd in Idaho's Sun Valley. which was recorded by Ray Anthony's big band in 1953, and became an enormous worldwide hit. You can imagine the legal kerfuffle which ensued.
Curiously, the arguments between Al and Jimmy, and Robert/Joseph and the Ram Trio, appear to have existed entirely in parallel, with no lawsuits crossing the Atlantic. However, due to the enormity of Ray Anthony's hit, the song remains "The Hokey Pokey" (occasionally "The Hokey Tokey") in America, Canada, New Zealand, Ireland, and Australia. And of course now no one is entirely sure who wrote it, and when.
To make matters worse, in 2008, Anglican Canon Matthew Damon, of Wakefield Cathedral in West Yorkshire, claimed the movements in the song came from a mockery of a Catholic mass, and that the name derives from hocus pocus. So it could have been used as a taunting, anti-Catholic song. A theory that was taken seriously enough to provoke calls from Catholic clergy to have the song banned.
The theory has been widely discredited, however. Not least because of its popularity among Catholic families.  Still, it's a matter of no small irony that a song which was written to bring people together, and which has brought nothing but pleasure to children of all ages, the world over, should leave behind it such an unpleasant trail of bitterness and acrimony.
Fancy a dance?
Read More
Filed Under: