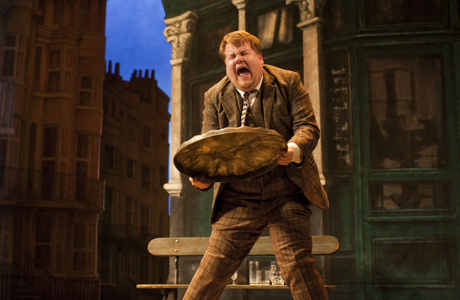 If you're in New York City, you're going to want to make sure you see the new British play One Man, Two Guvnors. And if you're not in New York City, you need to get here to see this highly acclaimed National Theatre production, which begins previews early next month.
Here are five reasons why:
1. James Corden
As BBC America fans, you'll want to see James Corden, Craig Owens from Doctor Who and creator and co-star of Gavin & Stacey, live on stage, in an updated version of eighteenth century playwright Carlo Goldoni's commedia del arte classic, Servant of Two Masters. Modern day writer Richard Bean has reworked the play and moved it from Venice to Brighton in 1963. Corden, the servant, or man, puts himself into one farcical situation after another as he tries to serve two masters, or guvnors – or, as updated here, gangsters.
2. The reviews
The Guardian called One Man, Two Guvnors "one of the funniest productions in the National's history" and said that Bean's reworking "has not only improved Goldoni but also struck gold." Everything Theatre went even further: "One Man, Two Guvnors is a triumph," wrote the British website, "and one of the most side-splittingly hilarious productions to ever be staged in London."
3. The Queen missed James Corden, but you don't have to.
That's right, by the time the Queen saw the show in London last week, Corden had already left. But it's not too late for you. No need, however, to feel bad for the monarch: according to a "theater source" cited by the Mirror, Her Majesty "certainly appeared to thoroughly enjoy the show."
4. There are still tickets available.
One Man, Two Guvnors sold out in London, but right now, there are still seats available in New York. Some of your American compatriots joined international audiences to watch the play in HD when it was broadcast around the world last September, but you'll have the opportunity to see it live, in the most lifelike 3-D there is.
5. We're here to help.
BBC America has a special discount offer you can use to see the show at 40% off. Previews start April 6, so get your discounted seats now, while they're still available. And don't say we never do anything for you.
Here's everything you need to know about the discount:
For performances April 6 – April 29
$79.50* Orch (A-P)/Front Mezz (A-G)
$59.50* Mezz (H-J)
For performances May 1 – May 20
$84.50* Orch (A-P)/Front Mezz (A-G)
$64.50* Mezz (H-J)
Reg: $91.50 – $126.50
Visit BroadwayOffers.com or call 212-947-8844 and use code OMBBC312
Or bring this offer to the Music Box Theatre Box Office, 239 W. 45th Street (bet. Broadway & 8th Ave.)
Box Office hours:
Mon-Sat: 10 am-8 pm; beginning April 8, Sun 12 pm-6 pm
*Offer valid on all performances through 5/20/12, excluding 4/18/12. All prices include a $1.50 facility fee. Limit 8 tickets per order. Offer subject to availability and prior sale. All sales are final. No refunds or exchanges. Telephone and Internet orders are subject to standard service fees. Offer may be revoked or modified at any time without notice.
Read More
Filed Under: