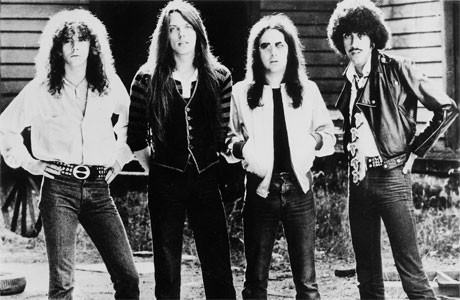 This Saturday (March 17) is St. Patrick's Day, which, as we know, gives everyone a free hall pass into the world of pretending to be Irish (even if you actually ARE Irish) and proud. By which I mean there will be greenery hanging from every light-fitting, shamrocks, and harps will dance before your very eyes, and hearts will swell with pride at the first sip of green Guinness under the crossed shillelaghs of a dancing leprechaun.
But what, you may ask, is a decent rockin' soundtrack to a St. Patrick's Day celebration? What if I don't want to play U2 all night long? Surely there are alternatives?
Well, if you have to ask, I'd suggest you may need to think hard about whether you should be observing St. Patrick's Day at all, but seeing as you HAVE asked, here's a decent place to start:
Thin Lizzy
Back off, rock pedants. They may not have been fully staffed by Irish performers at all times, but doubt Lizzy's Irish pedigree at your peril. Their first hit single was a reworking of the old folk tune "Whisky In The Jar," Phil Lynott's lyrics came from a long history of Irish working class storytelling, and Dublin is where he and drummer Brian Downey first met. Plus he deserves a special pat on the back for writing the astonishingly evocative (and slightly dunderheaded line) "tonight there's gonna be a jailbreak, somewhere in the town," to which the only sane response is "the jail, perhaps?"
See also: Rory Gallagher, Ireland's hardest-working bluesman.
The Boomtown Rats
Never the first band to spring to mind when compiling a list of rock-era Irish greats, the Rats came out of the street urchin, Springsteen and Van Morrison mid-'70s ready to be supercharged by punk and launched at the world. Think of them less as a poor man's Clash and more as a younger man's E-Street Band and they make a lot more sense. Plus Bob Geldof is the only man bullish enough to have been able to pull off Live Aid, so credit where it's due.
The Pogues
http://www.youtube.com/watch?v=DrBLqp-s__o
Punk also had a profound effect on Shane MacGowan. At the time he was a London-based snotty fan of the Jam, with strong Irish roots going back many years. Once his own punk band the Nips had folded, he found a bunch of similarly rough-arsed London Irish musicians, and formed Pogue Mahone – Gaelic for "kiss my arse." They soon changed this to the Pogues and set about playing a mixture of Shane's wondrous tunes and supercharged versions of republican folk songs, while wearing demob suits and (in the case of Spider Stacey) being bashed over the head with a metal beer tray. They deserve their own public holiday, frankly.
The Undertones
Derry's favorite sons (which makes them Northern Irish, but let's face it, St Patrick's Day is not the time to be picky about these things) and the creators of "Teenage Kicks," not just John Peel's favorite song of all time, but one of the brightest moments of the punk era. They thought they were a European Ramones, writing giddy rockers about being a male model, Mars bars and frustratingly perfect family members. But they quickly matured into a gleeful pop band, hymning the joys of summer, the problems of getting the attention of local girls and, towards the end of their career, even addressing Irish politics. An iron fist in a Muppet glove.
See also: Ash
My Bloody Valentine
Indie's last gasp into the future before the forces of retro overwhelmed it, the Valentines had originally tried to make it as a noisy version of those wet lettuce "she's a groovy candy sky" bands of the late '80s before taking a mercurial approach to the generation of sound. Kevin Shields' doctored tremolo arm making his guitar wobble and swoop, and his shared vocals with Bilinda Butcher appearing out of an androgynous cloud. Save this for the moment when your party starts to get a little weird, and it'll be the perfect soundtrack.
Who did we miss? Tell us here:
Read More
Filed Under: