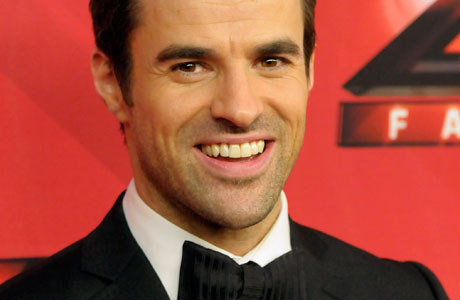 They set off from London, eyes bright with optimism amid claims that America is theirs for the cracking, only to return, months later, as worn out husks. Here are just five British would-be conquerors who came back defeated:
Robbie Williams
It must have been a profound shock to our Robbie that he was not seized upon as the great successor to Tom Jones that he (sort of) was in Britain. And Europe. And Australia. And Asia. Even Canada fell for his charms, but not the U.S. of A. "Let Me Entertain You," he sang. "No," you replied.
Alex Pettyfer
Remember Stormbreaker? And that handsome fella playing Alex Rider? What hopes we had for him, to become the new hot British actor in Hollywood, to become the English Zac Efron, to take the lead role in Justin Bieber: The Movie…ANYTHING but a silly fairytale remake with Vanessa Hudgens and some Teen Choice awards, given more for looks than talent. Come on, Alex, you can DO this…
Julia Ormond
If Julia's career ever died, it'll have been from a self-inflicted wound. She might not be the leading lady her talent and charisma might indicate she should, but that doesn't mean she hasn't been busy. A UN goodwill ambassador and tireless campaigner against human trafficking, Julia has managed to balance the demands of her career against her social conscience and her need to keep doing good work, so for once the hype can go fish. And she was in My Week With Marilyn last year, and that was lauded with praise, so let's call this one a draw.
Ms. Dynamite
Another of our pop exports that missed the mark, Stateside. To be fair to everyone, she didn't exactly stick around long enough to become a huge star in the UK either. One Mercury Award win, one hit album, and then a long silence while she raised a family and everyone quietly forgot the "Dy-Na-My-Tee" song that was her calling card. This song, in case you're still struggling to remember:
Steve Jones / Cheryl Cole
It would take a crueler man than I to suggest that it was the X Factor as a whole that was a "Next big thing that never made it — after all the viewing figures weren't THAT bad. But the arrival of Simon Cowell's "innovative" spin on American Idol did carry some casualties in its wake; notably Cheryl Cole, who arrived with a bang and left in a gust of hot air, and Steve Jones. Poor Steve couldn't quite understand how audiences failed to be won over by his "handsome man with cold, cold heart" schtick, especially as that's the role British guys always play in the movies. Maybe he just looked a little try-hard next to the genuine coldness of Darth Cowell.
Who've we missed? Tell us here:
Read More
Filed Under: