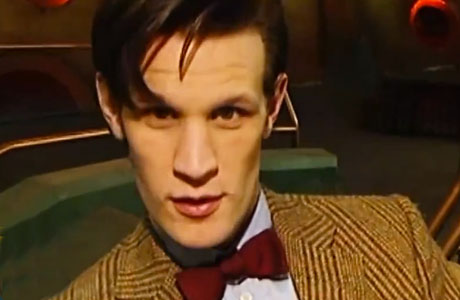 The very first official Doctor Who convention takes place in Cardiff in just a few weeks, and to wet the whistles of everyone that got tickets, and frustrate the holy hell out of everyone that didn't, here's what happened when Matt Smith appeared on the ITV breakfast show Daybreak last week, to discuss the event and what it all means:
http://www.youtube.com/watch?v=eAbQFlzyOzI
You heard the man, take this as an order to dress up! Even if you're not coming!
Here's what else has been going on in time and space this week:
The would-be rivalry between Steven Moffat's protagonists, Matt Smith's Doctor and Benedict Cumberbatch's Sherlock Holmes, continues to play out in viral videos, despite Matt playing down rumors that Benedict is being lined up to play the Master in the 50th Birthday specials next year:
• This week's companion is the irrepressible Wilfred Mott, Donna's grandfather and confidante of a worried Tenth Doctor.
• The woman who built a TARDIS with her own bare hands has become an Internet sensation and surprise sex symbol. How is she handling her newfound web fame? Well, she hasn't lost her humor, to be sure.
• The BBC Classic Doctor Who channel has exclusive, on-location archival footage from 1971 Jon Pertwee serial The Daemons. The clip, which will be a DVD extra on the Daemons release (available for pre-order), is backed by some eerie music, courtesy of the BBC Radiophonic Workshop. Wouldn't you love to work in a radiophonic workshop? We would:
• Proof that the doors to the TARDIS open into a whole world of success for actors comes from Freema Agyeman, who is reported to have taken a role in the Sex and the City prequel TV series, appearing as the best friend of Sarah Jessica Parker's character Carrie Bradshaw (who isn't being played by SJP), during her early years in New York. (via Marie Claire)
• At the Gallifrey One convention in Los Angeles last month, Radio Free Skaro chatted with Camille Coduri a.k.a. Jackie Tyler (Rose's mom) from the Eccleston and Tennant years. She chats a bit about Tennant's introduction to the show: "When he came on board, there was a whole new energy. He was like a Labrador, like a puppy, like a live wire. And everyone had to be on their toes. And I was like, 'OK, we have a live one here.'"
• And they also spent some time on the couch with Chief Dalek Operator Barnaby Edwards.
• And how did we miss this from Gallifrey One? Daphne Ashbrook, a.k.a. Grace Holloway from the Eighth Doctor movie, took to the stage to (quite brilliantly) sing the Ray Charles jazz classic "I Don't Need No Doctor," with a bit of doo-wop backup from Paul McGann (Doctor No. 8), Yee Jee Tso (Chang Lee), and comedian Charlie Ross.
• The Welsh character actor Philip Madoc has passed away at age 77, the Radio Times reports. He is notable for his multiple appearances on Doctor Who, with guest spots in "The Krotons," "The War Games," "The Brain of Morbius," and "The Power of Kroll."
• And finally, hats off to Steve Berry, who has compiled the book Behind The Sofa, a compilation of British celebrities discussing their memories of being scared witless by Doctor Who in their youth. Contributors include: Charlie Brooker, Jon Culshaw, Josie Long, Neil Gaiman, Nicholas Parsons, Nicola Bryant and Tracy Ann Oberman, with all proceeds going to Alzheimers UK.
Read More
Filed Under: