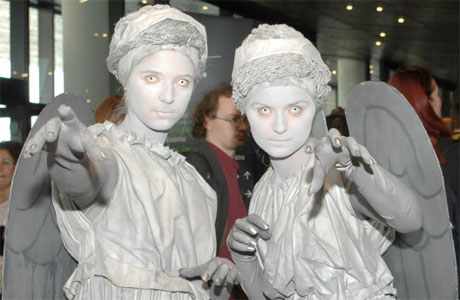 Well, as you'll know if you have looked at Anglophenia at all over the last few days, the first official Doctor Who Convention occurred over the weekend, and with it came a kaleidoscopic flurry of astonishing things. Not the least of which are special interviews with some of the cast and crew, which will be appearing on Anglophenia over the next few days.
In the meantime, here's just a brief sample of stuff we hadn't managed to cram into six (SIX!) reports from the convention, including a TOUR OF THE TARDIS SET (from which one of our number still hasn't recovered):
First and foremost, the Series 7 trailer, as exclusively revealed on Saturday afternoon:
• Arthur Darvill's bad "Knock knock" joke moment with a Whovian called Leonie.
Here's how BBC News reported the convention, with an interview with Steven Moffat:
http://www.youtube.com/watch?feature=player_embedded&v=XrlKrgueqBE
(And there's a full roundup of all the BBC News interviews here)
• Matt and Arthur on their on-stage larks during Swimming With Sharks, before either one was a twinkle in a Gallifreyan's eye:
• Oh and remember we mentioned Karen being terrorised by a Silurian? Here's proof:
And if you head over to the Doctor Who Facebook page right now you can see footage of the Meet The Stars panel in which Matt Smith did 50 keepy-uppies in a row for BBC Sport Relief. It also contains the 'ballet leap' entrances. It's a LOT of fun.
• TARDIS TOUR! TARDIS TOUR!
• One of the cosplay Weeping Angels has written about her experiences at the conference. Quite the giddy thrill, all told…
• Speaking of cosplay, a group of fans turned up to BBC Home Entertainment and Ain't It Cool News' standing-room-only screening of classic Who title The Three Doctors at the Alamo Drafthouse in Austin, Texas this weekend. Revel in the rainbow-scarfed, sonic-wielding splendor.
Just FYI: Alamo Drafthouse is a major cinema chain in Texas, and Doctor Who had some interesting neighbors at the theater.
Austinites, in case you missed this past weekend's event, the Alamo Drafthouse is holding a free screening of another classic title on April 28, brought to by BBC Home Entertainment, Ain't It Cool News, and the Alamo Drafthouse. Keep your eyes peeled for more info as it becomes available.
• Jenna-Louise Coleman has revealed that the hardest thing about being a new companion so far is learning how to keep secrets.
In an interview for the Radio Times, she admitted that even her closest friends weren't in the loop about her new job: "When you keep a secret this big, the temptation to tell is all the more irresistible, especially as I live with three schoolfriends. With girl politics the way they are, I couldn't tell just one friend. I had to phone one of them on the way to the press conference to tell her that I'd borrowed her shoes, in case she saw them in photos."
• And finally, remember Kelvington's YouTube mashup between Doctor Who and Star Wars? He's been at it again, only this time emphasizing the physical nature of the three most recent Doctor's perfomances. It's prat-fall heaven, basically:
http://www.youtube.com/watch?v=DHKsbKMbTCU
PS: This week's companion was Craig Owens.
Read More
Filed Under: