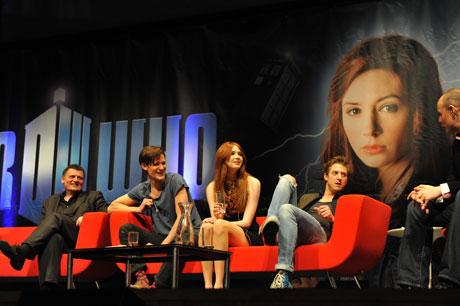 Having welcomed giddy Whovians into the Millennium Centre and tickled their excitement with actual Silurians and a very visible Ood…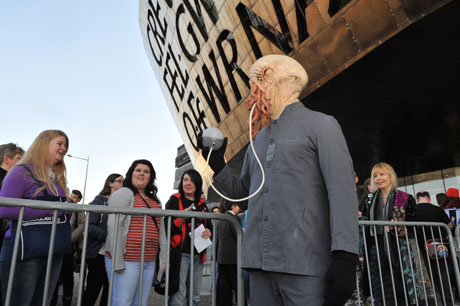 …the next phase was to invite people into the various auditoriums and arenas and explain exactly how the show gets made.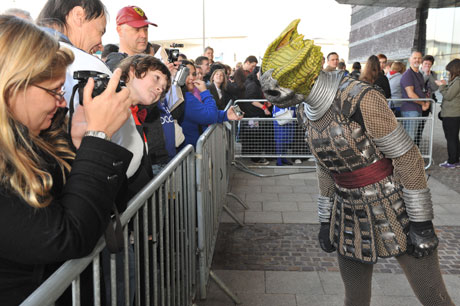 However, we do have a slight problem in that some of the topics covered today will also be covered tomorrow, and it would be rotten to spoil the fun of anyone who has tickets for Sunday. So, here's just a brief stone skim across the topics which have come up so far. Most of this stuff came from fan questions or just general randomness.
Apart from the first thing. OMG THEY PLAYED A TRAILER FOR THE FIRST HALF OF SEASON SEVEN! This happened during the Uncut Panel, where the show's producers explained how they go about taking a script and casting it, picking a location etc. While the audience watched the panel talk, upstairs, in the upper balcony, Matt Smith, Karen Gillan, Arthur Darvill and Steven Moffat snuck in, and demanded the trailer be played.
I won't spoil it, except to say four words: cowboy, snow, beach, caves.
…oh and you don't ever want to let Amy Pond play with a gun.
Then they demanded it be played again, and during the delay Matt revealed the horse he had learned to ride for the cowboy story was called Carmello.
Let's see, what else happened?
• Arthur Darvill revealed that he was the first of the cast to work out the identity of River Song. Alex Kingston had already been told, but was sworn to secrecy by Steven Moffat. When he figured it out, he asked Alex if it was true, and she just looked deep into his eyes and said "hello Dad."
He also said his first reaction when he found out that his friend Matt had first got the job as the Doctor was "I can't wait to get a pencil case with Matt's face on."
• Community fans! Karen Gillan loves Inspector Spacetime! She had to explain it to Matt and Steven and Arthur though. Then Steven promised, as they were having an affectionate pop at his show, to "take the rip" back. The question is not whether he will do this, but when.
In answer to a question about returning monsters, he also pointed out that the Daleks must be the most easily-thwarted Doctor Who villains ever. Oh sure, they always come back trying, but just at the last minute here comes the Doctor again to wreck their plans, "with a twig."
• Earlier in the day, at a panel devoted to the writing and production of The Girl Who Waited, writer Tom MacRae admitted his chief inspiration when developing the handbots was that they could be made into a toy. Sadly this has not yet happened.
He also offered this sage advice to anyone who wishes to write for a living: learn to touch-type. Then you can get all your ideas down in one go.
• Fact: Everyone dressed as the Tenth Doctor struts around with his (or her) hands in his (or her) pockets.
• Matt Smith was seen handing out jammy dodgers at the first Meet The Stars panel. He had clearly run out by the time of the second one, which was interrupted by the sudden arrival of a Judoon, and then a Silurian. Clearly they'd heard about the free biscuits.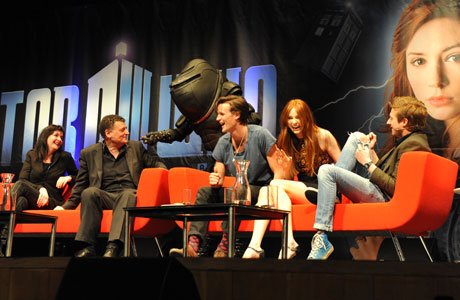 The Silurian terrorised poor Karen so much she nearly fell off the sofa, just by sniffing her hair. Ever the sensible one, Arthur had already moved to sit on the floor.
Seriously though, the trailer… *swoons*

Part three: too hot for cosplay
Read More
Filed Under: