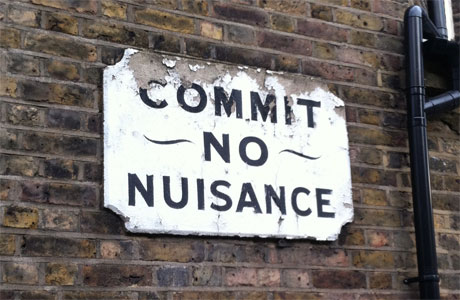 It all started on a walk through Southwark in London. I say "a walk," I was lost. But all was redeemed by the sight of this astonishing sign (above) on the wall of a building over the road. What a wonderfully polite (and yet still very bossy) way to demand high standards of considerate behavior from anyone perambulating down the street.
So, I resolved to have a look for any other signs that seek to curtail the having of fun, but in interesting ways. Buskers (that is to say, street musicians and performers who pass the hat), you may wish to look away now.
I very quickly came across this:
It's worth noting that the Globe Theatre is in Southwark, hence the Shakespeare reference. And it case you think Southwark has cornered the market in public clampdowns, here's a sign from the city of York (courtesy of Grounded Traveller):
See? A little bit of bossy, and a little bit of considerate, all rolled into one. Busk when there's kids around. Kids with pocket money!
Another nuisance sign, albeit one which carries the weight of legal action behind it, from Leeds Railway Museum.
And finally, my favorite of the bunch, from Vulcan Foundry, near Liverpool (courtesy of John Davies):
See the bit about ballad singers? Barry Manilow, consider yourself WARNED.
Oh, and this one is a little a DVD extra. It's not a scolding sign, but still rather grand, and comes from Porthallow in Cornwall:
Read More
Filed Under: