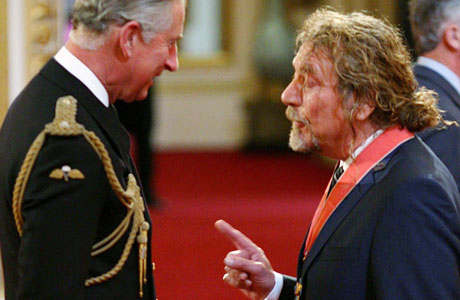 On your left you will see Prince Charles, father of William, son of Queen Elizabeth II and heir to the throne of the United Kingdom. On the left, the very leonine Robert Plant, singer with Led Zepellin and former golden god. This picture was taken at the investiture ceremony in 2009, when Robert received his CBE.
The question we have to ask is this: WHAT is Robert saying to His Royal Highness?
Is it: "…and how long has it been since YOU rock 'n' rolled?"
or: "…no, it's a minor-7th just before the chorus kicks off."
or: "..and then Bonzo blew the bloody doors off!"
Or is it something much better than any of these, something that only you can see? Well if so, tell us here:
NOTE: There are no prizes, the winner gets the respect of his or her peers.
Read More
Filed Under: