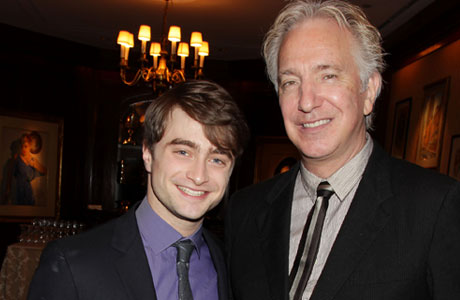 "The one thing I would have loved was for Alan Rickman to get nominated," declared Daniel Radcliffe in an interview this week.
On commenting on the last Harry Potter film, Radcliffe said, "I think what Alan does with that character, with the world watching you expecting that scene to be a certain way, was amazing."
The film was nominated in three technical categories but Radcliffe maintains he wasn't expecting the movie to pick up nods in some of the major Oscar races.
There were nine films nominated for best picture, but Harry Potter and the Deathly Hallows – Part 2 didn't make the cut.
Radcliffe says, "I would have been highly surprised had we been nominated in either Best Picture or Best Director or any of those."
He adds: "I don't know if it's a case of being passed over. I think it could just be that we're not one of the nine best films of the year." But he went on to correct himself stating: "In my head actually we probably made the top nine in my head now that I think about it."
Radcliffe has been busy promoting his new picture The Woman In Black, a Gothic horror film, in which he's playing an adult role for the first time.
It's his first post-Harry Potter movie, but Radcliffe doesn't see it as redefining his screen image. He says: "I'm not that much of an idiot. I know it's going to take a few films and a few performances — and it's going to take awhile for the perception to change in that general way — but I think it will happen."
Radcliffe's next screen role will be playing the American beatnik poet Allen Ginsberg.
Do you think Harry Potter was robbed at the Oscars? And can Radcliffe shake off his Potter persona? Tell us below:
Read More
Filed Under: