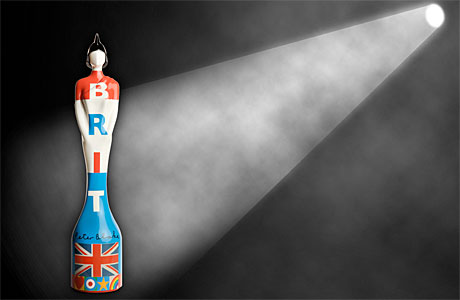 Live events, with their unpredictable edge and tendency to wander off schedule, do not always suit TV broadcasts. And awards shows are the worst for this kind of thing. All it takes is an unscripted speech rambling on too long, and suddenly the important thing at the end of the night has been compromised by a far, far less important thing earlier on.
And that's what happened at the Brit Awards tonight. After a fairly nondescript ceremony, which saw Ed Sheeran take away two awards (British Breakthrough Act and British Male), Coldplay win British Band (for the third time) and Bruno Mars sing a song with a quiff almost twice the height of his own height, Adele was awarded the Album of the Year trophy.
She had already won British Female Solo Artist, and given a short, sweet speech, and was expecting to be able to stretch out a bit with her second, simply because Album of the Year is THE award. There's the heritage thing that happens with the Outstanding Contribution award, for which Damon Albarn from Blur – this year's rightful winners – had rambled on for quite a while. He started with "last time we were here it was 17 years ago, and it seemed to have a profound effect on our lives," the kind of opener that never leads to a snappy "thank you and goodnight."  But that's for the grown-ups, if you need to prove that you are at the top of your tree, Album of the Year is the trophy you want. And who could argue that Adele isn't?
However, as she started to talk about how proud she feels, bring six Grammy awards back to the UK and then winning this particular Brit, the show's host, James Corden, had to step forward, at the behest of the TV producers, and bring her speech to a sudden halt, so he could introduce Blur's performance.
This was a timing issue. Blur had 11 minutes in which to play three songs: "Girls and Boys," "Song 2" and "Parklife" before the whole show fell off the air and it was time for the news. No matter how big Adele may be right now, her need to thank people for her award was secondary to the issue of timing, and it resulted in a horrible screech of gears, and as you can see from the picture, a rude hand gesture.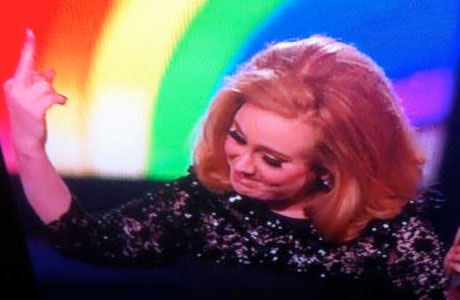 UPDATE: There's a clip:
Afterwards, James Corden told interviewers he was gutted that he had to do it, and didn't understand why. For her part, Adele appears to have taken it all in good humor.
Twitter predictably exploded, with people blaming Damon for going on, and Blur for having to have their 11 minutes, but really, it's television's fault. TV often can't remember what's really important at moments of high stress, and can be too busy arranging a pointless chat earlier on to remember to leave enough slack for the heavyweight moments towards the end. And goodness knows there are enough stunned silences in TV awards shows, so it's no easy task.
Not that it really matters. It's only an awards show. There's be another along in a minute.
Read More
Filed Under: