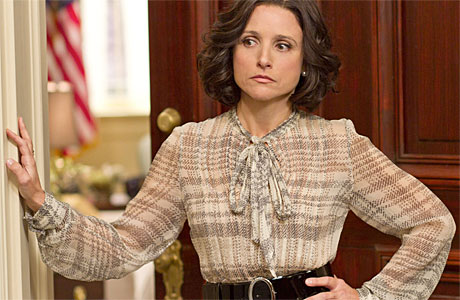 On April 22, HBO is showing a new TV comedy called Veep, in which Julia Louis-Dreyfus plays a former senator who has accepted the call to serve as Vice President of the United States. She soon finds that she's out of her depth among Washington's political chicanery and the constant media intrusion that comes with the job, and the show's comic focus is on her struggle to get anything done without losing all credibility.
Here's the show's trailer:
The show was directed and co-written by Armando Iannucci, the British comedy genius who made The Thick Of It, the show which did precisely what Veep does, but with British politics. If you've not seen it, here's a clip, but be warned, it is extraordinarily NSFW (as you would expect from a show which brought in the Leonardo of cuss-words, Ian Martin, to act as a swearing consultant):
The enormous success of The Thick Of It led to a film version, In The Loop, which widened the story, to include a major diplomatic incident across two continents, and the monolithic presence of James Gandolfini. But as always, it was the mighty Malcolm Tucker (played by the venomous Peter Capaldi) who dominated proceedings. Here's another NSFW clip:
It's at this point things started to get a little odd. Plans for an American remake of The Thick Of It got as far as a pilot being shot, directed by Christopher Guest, which carried an executive producer credit for Armando Iannucci and the unlikely spectacle of Oliver Platt playing a character called Malcolm Tucker, who had none of our Malcolm's gift for language. In fact, several of the most important factors in the show's success appeared to have been lost in translation, and replaced with more conventionally  It was not commissioned.
Armando explained to Broadcast why he felt the show hadn't been picked up: "It was terrible…they took the idea and chucked out all the style. It was all conventionally shot and there was no improvisation or swearing. It didn't get picked up, thank God."
Thankfully, a conversation began with HBO, and this is where the idea for Veep began. And thankfully, it appears to be a far better idea this time around. It's not just an American version of The Thick Of It, there's no Malcolm Tucker, but the script has been written by a lot of the writers of the UK show and yes, Ian Martin is one of them, so the swearing will poetic in both depth and form. Enjoy!
Read More
Filed Under: