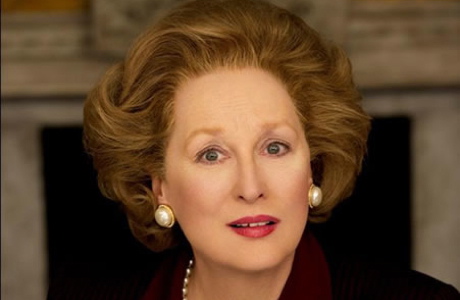 It's a smart bet that Meryl Streep will win a shiny BAFTA award – a golden face mask mounted on a squat pedestal – as Best Actress on Sunday for her widely praised turn as former British Prime Minister Margaret Thatcher in The Iron Lady. (The BAFTA ceremony will air on BBC America at 8 pm ET on February 12.)
Critics have been almost unanimous in praising Streep, who is also nominated for an Oscar. The biopic itself, however, has come in for far more mixed reviews. That's particularly true in the UK, where the major features of Thatcher's 16-year reign as prime minister (she stepped down in 1990) were an enthusiastic embrace of unfettered capitalism, labor strikes, IRA bombings, and the Falklands War.
Consequently, emotions about her still run high. To this day, for many Brits, it's either love her or hate her, with no in between. For many UK citizens, one's reaction to Iron Lady has become, in a way, a litmus test for how one feels about Thatcher.
Even the decision about whether to attend the movie has seemed to signal a political choice. In a measure of just how strong anti-Thatcher sentiment still runs, five separate groups advocating boycotts of Iron Lady popped up on Facebook.
Those who opposed Thatcher and her policies criticize the film for making her into a sympathetic old lady suffering from dementia. They say the film is too admiring of her tough-talking ways and whitewashes the widespread woes her actions caused.
"Basically, this is a defanged, declawed, depoliticized Margaret Thatcher, whom we are invited to admire on the feeble grounds that she is tougher and gutsier than the men," wrote movie critic Peter Bradshaw in The Guardian.
Those who adore Thatcher in her prime take offense at the film for depicting her not just in her glory years, but also as aged and suffering from dementia. (The former Prime Minister is now 86, a widow and has suffered a series of strokes; she lives in semi-seclusion in Belgravia, a posh part of London.)
"I don't actually think the film should ever have been made. It is a massive intrusion into Margaret Thatcher's privacy," wrote Norman Lamont, a former Conservative MP and Chancellor of the Exchequer, in a review in The Daily Mirror.
Even the current prime minister, fellow Tory David Cameron, waded in publicly with an opinion on the film. "It's really a film about aging and elements of dementia, rather than about an amazing prime minister," he told BBC's Radio Four. He praised Streep's acting, labeling her performance "fantastic," but said he would have preferred that the film not be made while Thatcher was still alive. "I wish they could have made [the film] another day."
All the controversy and opinions pro and con have neither helped nor hindered the film. It's a mid-size hit, performing respectably but failing to achieve blockbuster status. Since opening in the U.S on December 31 and in England on January 6, Iron Lady has grossed $52 million worldwide.
In the UK, the movie has grossed nearly $14.3 million though last weekend. In comparison, the Oscar-winning The King's Speech, which had an almost identical release date a year earlier, had grossed close to $48 million in the UK for the same period; it went on to gross $414 million worldwide.
As for Thatcher, we may never know what she thinks about Streep's performance or the movie. Published reports say that she is aware of the film but has no plans to see it.
————————–
Do you think Meryl Streep should win a BAFTA for The Iron Lady?
————————–
Read More
Filed Under: