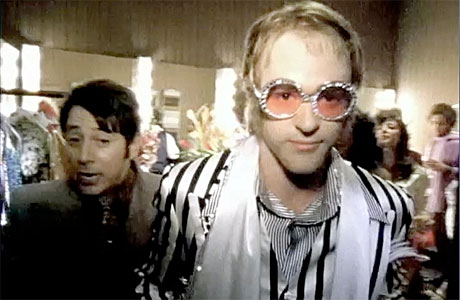 Please note, this article is in no way intended to call Sir Elton John an elephant, in a room or otherwise. However, there is a slight problem with the idea that the film producer (and partner of the great man) David Furnish has cast Justin Timberlake as the young Elton in his forthcoming biopic Rocket Man, and I wonder if you can guess what it is?
That's right. Justin Timberlake is an extraordinarily handsome man. Someone who is used to carrying no weight on his bones whatsoever and being able to charm people with just a smile. Sir Elton John, for all that he's a wondrous talent, is an entirely different person. You can see it in his '70s interviews, where he's still riddled with doubt over his looks, and over the few extra pounds he's carrying, compared to beanpoles like Rod Stewart or David Bowie. Plus his hair is starting to fall out, which is another thing to fret over.
He's got credibility, coming from the same arena of roots rock that has made stars of the Band and James Taylor, but when he really hits big, he becomes a properly showbiz solo star, like Elvis or Tom Jones. The problem is, while all the others preen and strut, he still wears his stardom like a brittle cape.
Oh and by the way, that's why he's wearing the actual capes too. It's all deflection. "I meant to look this weird on purpose! For fun! I'm clearly not sexy am I!? Hahahaha!"
Now I'm not saying Justin Timberlake can't make all that – plus the accent – work as an actor. I just have my doubts as to whether this is the side of the '70s Elton that David Furnish wishes to present to the world. I hope I'm wrong, but if you judge on the evidence of this video, the one everyone cites as proof that he can at least look the part, he looks like a handsome man playing ugly. Elton always looked like a slightly frumpy man, shyly dressing flash in order to overcompensate, and there's a difference.
Conclusion: So, what, Seth Rogan was too busy?
Read More
Filed Under: