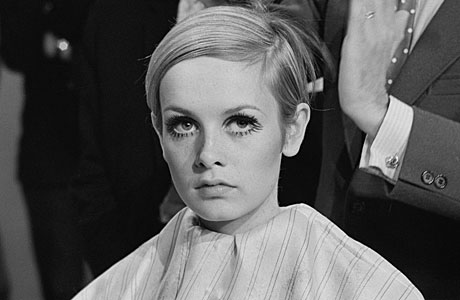 To celebrate the occasion of Karen Gillan's astonishing portrayal of Jean Shrimpton in We'll Take Manhattan, here are five more Great British Supermodels who deserve their own moment of dramatic historical recreation.
Twiggy
Our original skinny minnie, given the name Twiggy because, well, she was quite thin. Her '60s fame translated into '70s mainstream success, to the extent that she even managed a reasonable stab as an all-rounder, taking up acting and singing with equal success. Hell, she even appeared on The Muppet Show:
http://www.youtube.com/watch?v=q407R9QskPU
After this, America's Next Top Model can only have been a step down.
Who should play her in the TV biopic: Carey Mulligan.
Kate Moss
The rock 'n' roll supermodel, who has managed to weather the storms of both outraged public opinion (on her slender frame, and then later on her drug use), and going out with Pete Doherty with equal dignity. Her secret is simple: never give interviews, or at least, very rarely. And this means she can let her face do the talking. And the pouting. But it's not as if she doesn't have a sense of humor about herself. Here's her induction into the world of puppets (slightly NSFW):
Who should play her in the TV biopic: Léa Seydoux (from Mission Impossible 4).
Naomi Campbell
Now here's a lady who doesn't have a sense of humor about ANYTHING. She might have the grace and elegance of a swan, but she also has the poor temper and violent disposition of the swan (if tabloid reports and subsequent court cases with former employees are anything to go by), the really long neck of the swan, and when she (ghost)wrote a novel it was even called The Swan.
So if there is a TV biopic made, it should definitely be called Swanning About, and it should star Naomie Harris (or Tyra Banks, if the producers are feeling catty).
Elizabeth Hurley
Before Austin Powers took off, Liz Hurley was very much considered more a model than an actress, even though she'd been working in film for years, and what with her subsequent life played out before the harsh gaze of the tabloid eye, it seems like a long time ago that she was The Girl in That Dress on the arm of the hot British actor Hugh Grant at the LA premiere of Four Weddings And A Funeral. That lead to her first modelling jobs, and she subsequently became the face of Estee Lauder cosmetics for over 15 years. She now has her own line of beachwear, sadly not called That Bikini.
Who should play her in the TV biopic: Michelle Ryan.
Lily Cole
Blessed with an unforgettable face, which looks like the moon with a baby mask on, except beautiful, and a willowy figure, Lily was always going to be highly sought after by fashionistas. But she's gone on to prove there are plenty of strings to her bow. Last year she got a double-first from Cambridge, in History of Art, while holding down her modelling jobs and launching a promising acting career (a lot of love for appearing in a Terry Gilliam film – The Imaginarium of Doctor Parnassus – and even more for modelling the face of a CGI siren in the Doctor Who adventure The Curse of the Black Spot). At this stage it's looking very much as if there is nothing she can't do.
Who should play her in the TV biopic: Lily Cole (because no one else quite looks like Lily Cole.)
Read More
Filed Under: