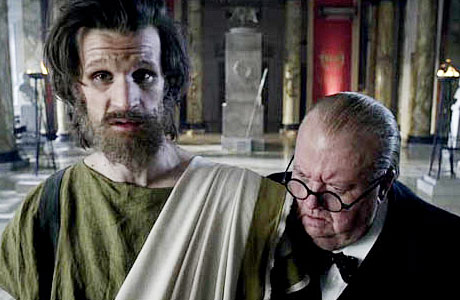 Many fans have been beating the drum for a crossover between Steven Moffat's two series, Doctor Who and Sherlock starring Benedict Cumberbatch as Arthur Conan Doyle's detective. This spawned the Wholock phenomenon, which has been expressed in various ways from fan fiction to Deviant Art works.
The Wholock movement may now have seen its masterwork: one fan with some serious Final Cut skills — and even better narrative skills — has created a fake Wholock movie trailer that will astonish and delight fans of either series, taking a story strand from Doctor Who Season 6 and expertly entangling it into Sherlock (there are Sherlock Season 2 spoilers here, be warned).
Prepare to have your minds blown. (Visit the creator, Liisakee, over on Tumblr.)
But this one is quite questionable – so tell us, Whovians, is Stephen Colbert referencing a Doctor's regeneration with this clip? Most fans on YouTube seem to think not.
http://www.youtube.com/watch?v=_QxNR9vZjBs
• Blogtor Who has posted Steven Moffat's teaser details about Season 7, taken from the programme to the Melbourne Symphony Orchestra Doctor Who Symphonic Spectacular from the weekend. It makes for exciting reading:
"Doctor Who's 50th anniversary is coming. In Cardiff, we're gearing up for the biggest, the best and the most ambitious season we've ever made. There will be shocks, surprises and heartbreak – the Doctor is about to say goodbye to his very best friends, Amy and Rory."
"And then he's about to say hello to someone very different – the Doctor is going to meet someone very new in the very last place he could ever have expected…"
Down the back of the TARDIS COUCH!?
• Meanwhile, back in the distant past, former production members from classic Doctor Who reflect on the creation of one of Doctor Who's most menacing foes: the Cybermen:
• We like this Matt Smith quote on who should play the Doctor next, when he finally decides to hang up his fez: "I think there will need to be a younger, cooler person than me. Or maybe an older, cooler person, who knows?"
• Here are two older people discussing an uncool moment: Pamela Salem (Toos) and Louise Jameson (Leela) talk about "corpsing" during the filming of The Robots of Death in 1977.
• And here are some production team memories of Patrick Troughton and Jon Pertwee:
• Ever the tease, Alex Kingston has hinted there is still some life in the River Song story. Or rather, there isn't NOT still some life in the River Song story. Here she is on The Graham Norton Show, make of it what you will:

http://www.youtube.com/watch?v=jQuUqD9cAxY
• Elsewhere on British TV, John Barrowman (a.k.a Captain Jack) turned up on The One Show and brought along his sister Carole. Like John, Carole can switch between a Scottish burr and a flat American accent. That, along with some vintage Barrowman family photos, makes this clip pretty amusing.
http://www.youtube.com/watch?v=_To5DJjp0xo
• Huge congratulations to Matt Smith and Alex Kingston, who walked away with the Best Actor and Best Actress trophies at the recent SFX awards. Doctor Who also won Best TV Show, while Neil Gaiman won a Screenwriting Excellence award for The Doctor's Wife. The magazine also introduced the Elisabeth Sladen award, recognizing outstanding achievements in children's sci-fi and fantasy. Fittingly the first award went to The Sarah Jane Adventures.
• From the makers of "S*** Doctor Who Fans Say": "S*** Doctor Who Fans Say, PART 2."
• Den of Geek has come up with an outstanding feature idea, in which they list ten actors who have appeared in both Doctor Who and Star Trek. And yes, Simon Pegg is one of them.
• Ladies and gents, introducing Doctor Whooves:
• Has Valentine's Day gotten you in the Ood for love? BBC America's Doctor Who website is featuring the most romantic quotes from the past seasons of the show.
• This week's companions are the army double act of Sergeant Benton and Mike Yates, the Brigadier's right hand men.
• In a recent poll for IGN.com, Whovians voted for a replacement companion for Karen Gillan, and their top answer was Emma Watson, who at least has some experience of following a charismatic man with a glowing stick. Their second choice was Zooey Deschanel, with Anna Friel in third.
Who would get your vote?
Read More
Filed Under: