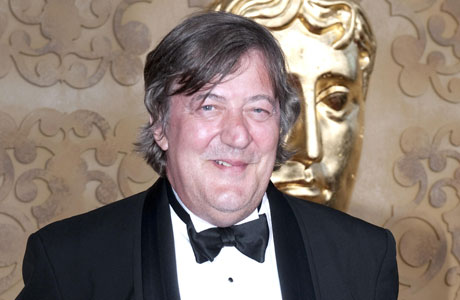 A celebration of the year in cinema, the BAFTAs — officially titled the Orange British Academy Film Awards — will air on BBC America on Sunday, beginning at 8 pm ET. (Follow Anglophenia on Twitter for Fraser McAlpine's live tweets during the ceremony as it airs in the UK at 4 pm ET.)
Here are five ways the BAFTAs differ from their American cousins, the Academy Awards:
1. Stripped down ceremony
You won't see Beyoncé caterwauling Randy Newman ditties on the BAFTA broadcast. Nor will you see an extended song-and-dance opener spoofing the nominated films or Jack Black and Ed Helms re-enacting the birth scene from Twilight. The BAFTAs strip away all the excess: it's an awards show, damn it. Hand out some awards. And that certainly doesn't mean the show is without excitement. Or, of course, brilliant gaffes and mishaps like this one:
2. Stephen Fry is the host
Erudite but never stuffy, edgy but rarely coarse, he is the modern-day re-incarnation of Oscar Wilde, the Irish playwright he portrayed in the 1997 film. This is his seventh time serving as MC, but he's so perfect in the role that you hardly mind. Here's a clip of Fry hosting the BAFTAs in 2002. He rattles off lines like, "Let the tiara of joy encircle your brow, and the elastic pantyhose of festivity engirdle your most intimate parts." Clearly, Bruce Vilanch didn't supply this copy:
Fry had previously hosted the BAFTAs from 2001 to 2006 when Jonathan Ross took over the reins. "The adorable Jonathan Ross has done a magnificent job since I last hung up my bow-tie and boxed my patent leather pumps," Fry recently wrote of his predecessor, "and I am honored and pleased to return to the lectern and host what I am sure will be an evening of squeals, surreally weird acceptance speeches and genuinely exciting surprises and pleasures."
3. Speaking of "surreally weird acceptance speeches"…
Apparently, the water over in London inspires celebrities to blossom verbally.
Take Mickey Rourke's now legendary F-bomb-laden speech when he won for The Wrestler:
See Helena Bonham Carter's absolutely charming speech last year when she won for The King's Speech. Barely ten seconds in, she declared, "My underskirt just got hitched up and this is not a good moment":
http://www.youtube.com/watch?v=Rf263SY3MIg
4. Miss Piggy is the red carpet host
Stateside fans launched an impressive online campaign to get the Muppets an Oscar hosting gig, which would have sent ratings through the roof in a year when blockbuster nominees are few-and-far-between. (The Artist didn't exactly pack theaters.) Alas, instead of making an interesting choice after Eddie Murphy dropped out, they opened up their '90s time capsule and dusted off Billy Crystal for the ninth time. Snooze.
Well Oscar's loss is BAFTA's gain: the British Film Academy recently scooped up Miss Piggy as host of their red carpet show. The world's most glamorous porcine starlet gabbing it up with Brangelina? Priceless. What it shows is that, despite BAFTA's high-toned rep, the organization takes itself far less seriously than the pretentious Motion Picture Academy.
5. British focus
As these are the British Academy Film Awards, the BAFTAs set aside categories to honor homegrown films and talent, e.g. Outstanding British Film and Outstanding Debut by a British Director. And they do reward their own in the general categories as well: Brit-filled espionage thriller Tinker Tailor Soldier Spy scored 11 nominations at the BAFTAs, while the film has only three nods at the Academy Awards.
For a list of the BAFTA nominees, click here.
Will you be watching the BAFTAs on Sunday?
Read More
Filed Under: