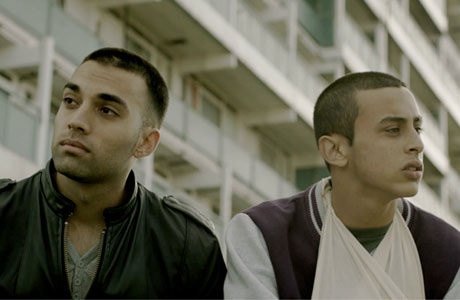 The British drama My Brother The Devil — set on the mean streets of London — is to screen at the Berlin Film Festival next month after emerging as one of the more critically praised pictures at Sundance.
This story of the relationship between two British-Egyptian brothers living on a rough London housing estate has won raves from the entertainment industry trade press. Screen International described it as "a luminous event," and The Hollywood Reporter declared it a "crackling debut feature" from Welsh Egyptian writer-director Sally El Hosaini.
Up-and-coming British actor James Floyd, 26, skillfully portrays Rashid – the older of the two brothers. He says: "It's about the complex relationship that they have. It's more specifically about one of them coming of age and one of them coming out and the conflict that arises."
For Rashid, being revealed as gay is one of the worst things imaginable in the tough world that director Sally El Hosaini has very effectively depicted.
She says: "It's a very macho world, and it's extremely homophobic, and I suppose there's double homophobia in the film, because there's the homophobia that comes from a cultural and slightly religious place within the Arab family. But then [there's] the life on the streets amongst the boys, that macho way of being that's extremely homophobic — and reinforced by kind of homophobic rap lyrics in songs."
At its heart, My Brother The Devil is a very personal relationship drama. Fady Elsayed, 18, who gives an empathetic portrayal of Mo, the younger brother, says: "It's about true love, true love between two brothers, especially when I have to make a decision accepting my brother for being gay."
This film is set in the midst of a bleak urban landscape, populated by nicely portrayed underdog characters not often seen in UK cinema.
James Floyd says, "We do make a lot of movies that are about the privileged classes but I think the volume of them is a bit excessive and I don't think there's enough of a voice for these kinds of characters in cinema – I think that's one of the reasons why this movie is very important."
My Brother The Devil has a lot going for it — strong acting, directing and a great visual style — it won an award at Sundance for its cinematography.
But it faces a tough challenge: it uses the language of the street, and, at first, it's hard to comprehend what the characters are saying. It's a laudable effort to retain authenticity, but it may damage the film's commercial prospects.
Is My Brother the Devil on your must-see list? Tell us below:
Read More
Filed Under: