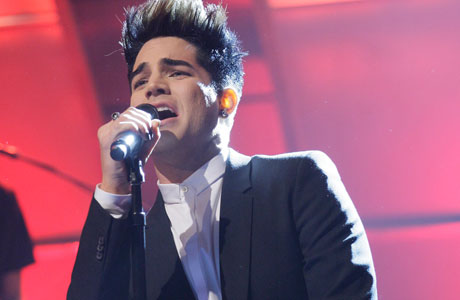 Today's announcement that American Idol runner-up Adam Lambert would serve as lead singer for the still-touring Queen, replacing the late Freddie Mercury, has set the Twitterverse ablaze.
Cue the lines about Freddie, who died in 1991, rolling over in his grave.
Cue Sacha Baron Cohen — the comedian cast in the upcoming Mercury biopic — snarking viciously about this turn of events at press junkets.
Cue the pornstaches being Photoshopped on pics of Adam Lambert around the web.
"The intention is to pay tribute to Freddie and the band by singing some f***ing great songs," he said told The Daily Star. "It's to keep the music alive for the fans and give it an energy that Freddie would've been proud of."
Here's a bit of Adam and Idol winner Kris Allen performing "We Are the Champions" with Queen's Brian May and Roger Taylor in the 2009 Idol finale. Essentially an audition for the gig.
What do you think about Adam Lambert fronting Queen?
Read More
Filed Under: